9. Pan Seared Steak with Garlic, Herb Butter, Asparagus and Mushrooms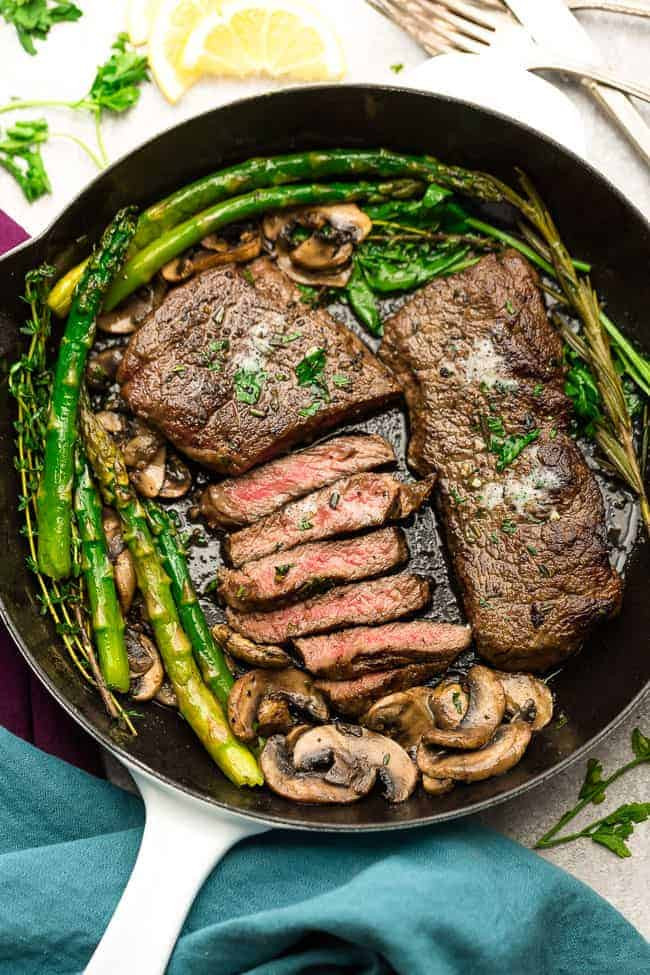 Ingredients:
2

One and half inch (1 1/2)

boneless New York strip or rib-eye steaks

trimmed

1 1/2

Tablespoons

olive oil

divided

Coarse salt and freshly ground pepper

2

Tablespoons

butter

for serving (use ghee for dairy free version)

2

cloves

garlic

minced

2

sprigs

fresh thyme or rosemary

finely chopped

1/2

teaspoon

fresh rosemary

finely chopped
Instructions:
Pat steaks dry with a paper towel.
Heat a cast iron skillet over high heat for several minutes, until the pan begins to smoke.
Add 1 tablespoon of oil to the pan and brush on the remaining oil on the steak. Generously season the steak with salt and pepper.
Carefully place the steaks in the hot pan and allow to sear (undisturbed) on the first side until crust forms. About 3-4 minutes. Using tongs, flip the steaks over and continue to cook until desired doneness:
For Medium Rare: 3 to 5 minutes (135 degrees F).
For Medium: 5 to 7 minutes for medium (140 degrees F)
For Medium Well: 8 to 10 minutes for medium-well (150 degrees F)
Once the steaks are almost done, reduce heat to low. Add butter, garlic, and herbs to the pan. Use an oven mitt or dish towel, grasp the than pan handle and tilt and swirl the pan to allow butter to melt. Use a spoon to drizzle and baste steaks until juicy on both sides (flip after 30 seconds) for about a minute.
Transfer the steaks to a cutting board or platter, tent loosely with foil and let rest 5 minutes before slicing.
Serve with roasted asparagus and sauteed mushrooms (if desired) along with any remaining sauce.
Originally posted 2019-03-12 14:01:49.