17. Grilled Steak Caesar with Asparagus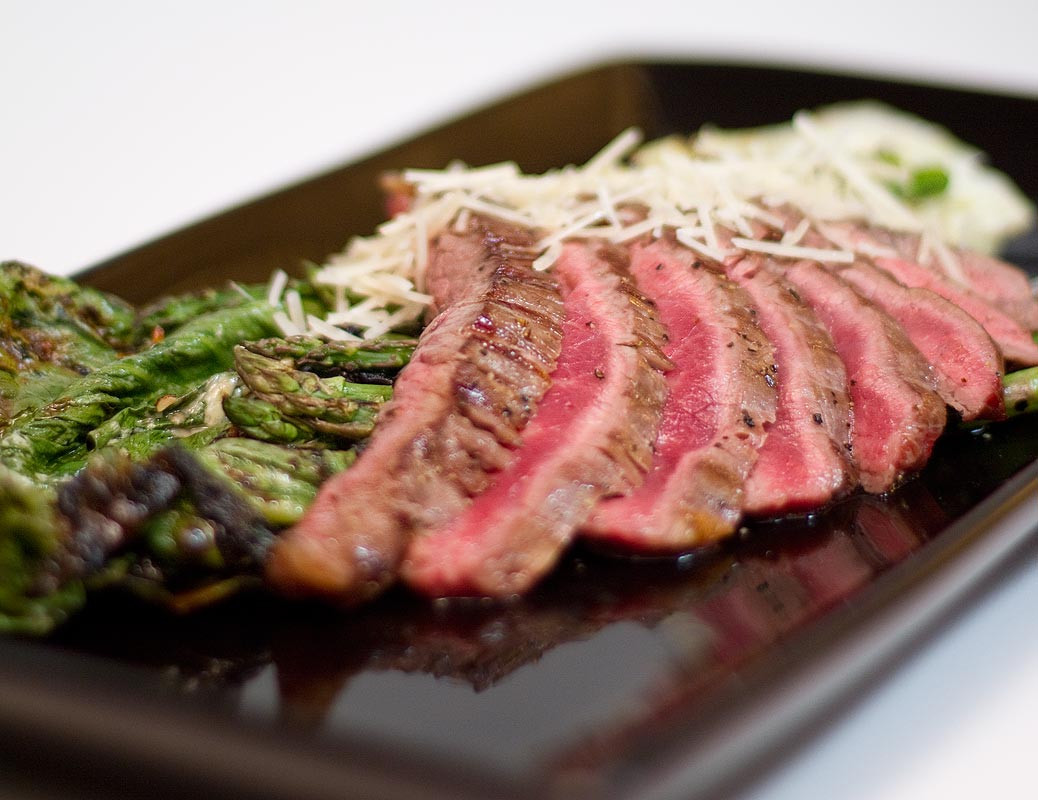 Ingredients:
1 1/2 lb (681g) beef flank, tenderloin, sirloin or ribeye, cut into 4 portions
3/4 cup (160.5g)  caesar salad dressing
1 large head (262g) romaine lettuce, washed and dried
1 bunch (227g) asparagus
1/2 cup (50g) parmesan (reggiano) cheese, grated
salt and fresh cracked pepper, to taste
For Caesar Salad Dressing
1/2 cup (109.63g) mayonnaise
2 tbsp (14.2g) bacon bits
2 each (6g) garlic cloves, minced
1/4 cup (25g) parmesan (reggiano) cheese, grated
1 tsp (5.67g) worcestershire sauce
salt and pepper, to taste
For Mayonnaise
1 large (50g) whole egg
1 large (17g) egg yolk
1 tsp (5g) dijon mustard
2 tbsp (30.5g) lemon juice, freshly squeezed
1 1/2 cup (324g) olive oil
1 tbsp (12g) 'Swerve' or other sugar replacement (optional)
water (to adjust consistency)
salt and pepper, to taste
Instructions:
Make Caesar salad dressing:
In a small mixing bowl, whisk together the ingredients.
Season to taste.
Make Mayonnaise:
In a food processor or blender, add your eggs, Dijon, lemon juice and a dash of salt. Turn it on the slowest setting.
SLOWLY (painstakingly slowly, to begin with … literally one drop at a time), pour the olive in, in a slow, thin stream, into the food processor or blender. The first 1/4 cup of oil should literally be one drop at a time. Once that's incorporated and the emulsion has officially formed, you can pour in a somewhat faster, although still … very thin … stream of oil.
Continue to drizzle the oil, until about 1/3 of it has been used. Open the processor and add your sugar equivalent, if you want to make a slightly sweet mayonnaise (think … Miracle Whip). Also check the consistency. If it's getting too thick, you can add 1/2 tsp of water.
Return the lid and continue to drizzle the oil into the mayonnaise. As you add the oil, the mayonnaise will thicken. If it gets too thick, stop the processor and add another 1/2 tsp of water. Repeat this process until all the oil has been added.
Adjust seasoning with salt and pepper.
Transfer into an airtight container. Homemade mayonnaise will last in the fridge for about 2 weeks.
Make Grilled Steak Caesar with Asparagus:
It's always better to cook a warm and relaxed piece of meat. Set your flank on the counter top about an hour before cooking, if possible.
Pre-heat the grill.
Season the steak with salt and pepper.
Over a bowl or large platter, brush your Caesar dressing heavily over the steak. Place it on the grill.
Cut the large head of romaine into quarters, lengthwise.
Snap the hard fibrous stalks off the base of the asparagus spears.
While the steak grills, continue brushing your romaine lettuce and asparagus with more Caesar dressing. You can pull apart some of the romaine leaves and brush between leaves, as well. Season both with a little bit of salt and pepper.
When the steak has been on the grill for about 5 minutes, flip it over and grill for about 5 more minutes (or until desired doneness). When the steak is done, remove it from the grill and allow it to rest.
Add the asparagus to the grill.
Let the asparagus grill for about 3 minutes. Then add the romaine lettuce to the grill.
Grill the romaine and asparagus for about 2 more minutes. Place the romaine and asparagus on 4 plates.
Slice the flank steak against the grain and very thin. Place it on the plates.
Garnish with grated parmesan cheese. Serve!
Originally posted 2019-03-12 14:01:49.