16. Beef Steak Rolls with Asparagus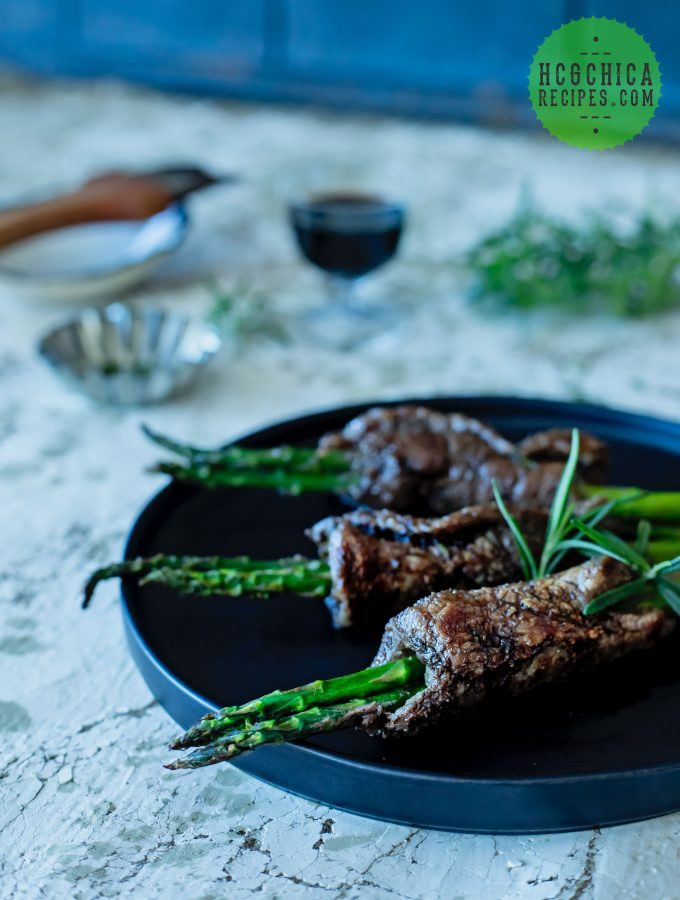 Ingredients:
7

oz

Sirloin Steak

(100g per 3.5 oz) sliced* into 6 thin, flat, wide strips -approx 35g per strip

1

tsp

baking soda

12

asparagus spears

2

tbsp

beef broth

1

tsp

salt

1

tsp

ground black pepper

1

tsp

garlic powder

2

tsp

fresh rosemary

chopped

3

tbsp

balsamic vinegar

1/32

tsp

powdered stevia

*
1/2

cup

red bell pepper

(½ of a bell pepper) sliced-AP
Instructions:
Dissolve baking soda in 1/2 cup warm water

Soak steak strips the baking soda mix for 15 minutes. This helps make lean meat much more tender. Rinse steak thoroughly/repeatedly with cold water

Lay steak on a sheet tray and sprinkle with 1/2 tsp salt, 1/2 tsp black pepper, garlic powder and rosemary. Rub seasonings into meat and set aside

Sauté asparagus spears with beef broth, 1/2 tsp salt and 1/2 tsp black pepper for 6 minutes. Asparagus should be cooked but crunchy. (If making AP variation, also sauté the red bell pepper slices with the asparagus)

Place asparagus spears in the center of the sirloin (2 spears per sirloin) and wrap steak around asparagus. Secure ends with a toothpick

Bring balsamic vinegar and stevia powder to a boil and immediately turn off the heat. Set aside

Grill steak rolls on a preheated grill pan for 3 minutes on each side.

Brush each roll with balsamic glaze and serve while warm
Notes
A way to make it easier to slice meat thinly like this is to stick it in the freezer for 20 minutes first.
You should be able to slice one 100g steak into three thin flat pieces to make three rolls per serving.
Originally posted 2019-03-12 14:01:49.