25. Steak and Asparagus Breakfast Wrap with Bacon Spread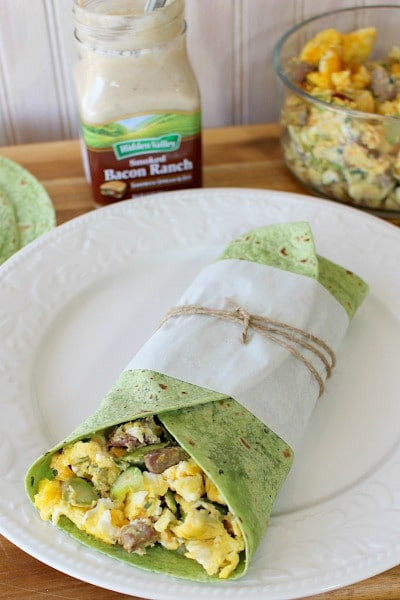 Ingredients:
1 tablespoon olive oil
¼ cup chives, thinly sliced
1 cup asparagus, thinly sliced
1 cup cook steak, diced
8 eggs
½ cup cheddar cheese
dash of pepper
4 tortillas
Hidden Valley Smoked Bacon Ranch Sandwich Spread & Dip
Instructions:
Over a medium flame saute the asparagus and chives in olive oil until the asparagus is fork tender.
Add the steak and cook until heated through.
Add the eggs to a medium bowl and whisk until they become lighter in color.
Stir in cheese, salt, and pepper into the beaten eggs.
Pour the egg mixture over the asparagus and steak. Cook over a medium-low heat without stirring until the eggs start to set on the bottom and around the edges of the pan.
Using a spatula, gently lift and fold the egg mixture, so the uncooked mixture runs underneath and onto the pan surface. You may have to use the spatula to lift the cook eggs and let the uncook eggs run underneath to the pan a couple of times. Try not to over stir your eggs when cooking them. You want to keep the curds as large as possible.Cook for 2 –3 more minutes or until the eggs are thoroughly cooked.
Spread 1 – 2 tablespoons of Hidden Valley Smoked Bacon Ranch Sandwich Spread & Dip on each tortilla.
Divide the scrambled egg mixture between the 4 tortillas.
Fold or roll the tortillas.
If you wish, wrap parchment paper around the wraps and secure with twine.
Serve immediately.
Originally posted 2019-03-12 14:01:49.