20. Steak Wrapped Asparagus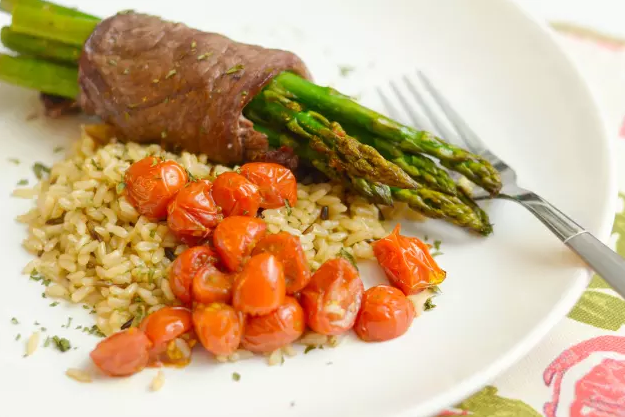 Ingredients:
1 pound Asparagus
2 cups Grape Tomatoes, halved
1 1/2 pounds Sirloin Steak, or flank steak, thinly sliced
4 tablespoons Balsamic Vinegar
4 tablespoons Olive Oil
1 clove Garlic, crushed
1 teaspoon Salt
Wild Rice, cooked & prepared
Instructions:
Trim the asparagus and slice the tomatoes if not already.
Spray a 9×13-baking dish with non-stick cooking spray.
Gather about 4-5 asparagus and wrap the thinly sliced steak around the asparagus.
Place each steak bundle in the baking dish.
Surround the steak and asparagus with the tomatoes.
Mix together the vinegar, olive oil, garlic, and salt in a small bowl.
Lightly brush the vinegar mixture over the entire dish.
Let this marinate at least 1 hour in the fridge, up to 8 hours.
When ready to bake, preheat the oven to 425°F.
Bake for 10 minutes in a preheated oven or until the top of the steak is browned, then carefully turn over the steak and bake an additional 10-20 minutes until fully cooked and the asparagus is tender.
Serve over Wild Rice.
Originally posted 2019-03-12 14:01:49.