1. Gluten Free Green Bean Casserole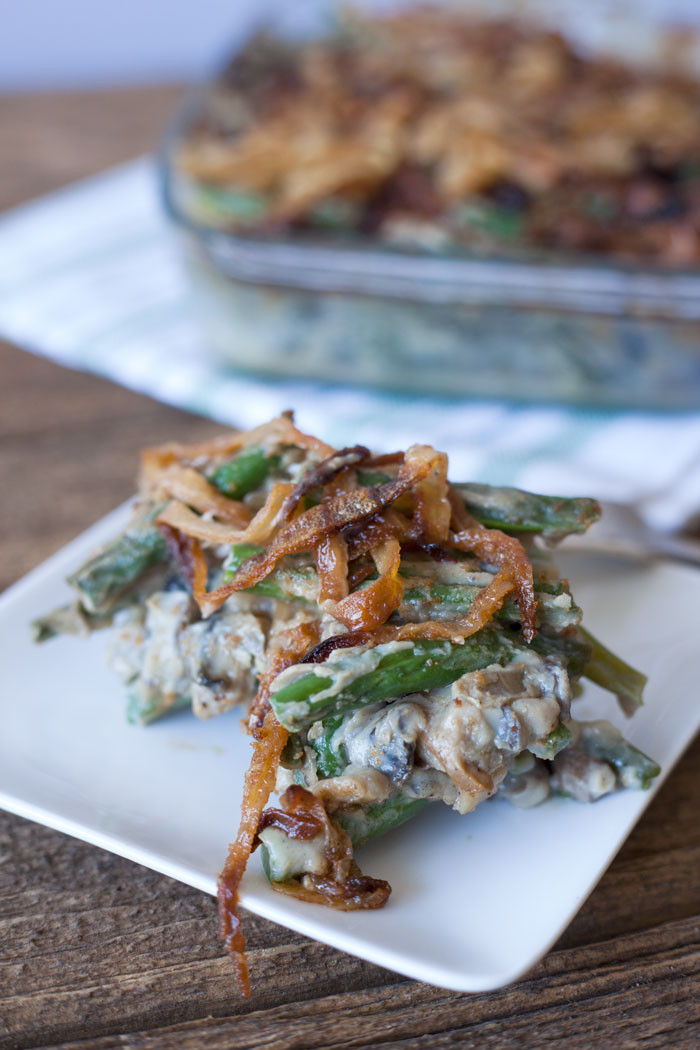 Ingredients:
Creamy Soup
1 head cauliflower, chopped
1 ½ cups unsweetened almond or soy milk
1 Tbsp garlic powder
1 tsp himalayan salt + additional 1 tsp himalayan salt
½ tsp freshly cracked black pepper
1 ½ Tbsp onion powder
pinch of nutmeg
1 medium size white or Spanish onion, finely chopped
2 garlic cloves, minced
16 oz of mushrooms, finely chopped
2 Tbsp coconut oil, or your favourite cooking oil of choice
French Fried Onion Topping
2 large white or spanish onion, thinly sliced with a mandolin
1 ½ cups coconut flour, you can also use unbleached all purpose (if you aren't gluten free) or gluten free all purpose flour
1 ½ cups soy milk, or your favourite non dairy milk of choice
1 tsp himalayan salt
1 tsp dried sage
1 tsp paprika, to season
Vegetable oil for frying 2-4 cups depending on what pan or deep fryer you are using.
1 pound fresh green beans, rinsed, trimmed and halved
Instructions:
Make the Soup:
Place chopped cauliflower in a large pan with almond milk, garlic powder, salt, onion powder, black pepper. And cook until the cauliflower is soft.
When the cauliflower is cooked and soft blend in a blender until very smooth and creamy, and transfer back into the large sauce pan.
In a large heavy bottom pan heat up coconut oil, and saute garlic, onions, salt and mushrooms until the mushrooms start to give up some of their liquid. This should take about 10 minutes.
Once the mushrooms are cooked, add them to the large pot with the cauliflower soup, and simmer on low allowing flavours to incorporate. While you prepare the onions and beans.
French Fried Onion Topping:
Soak the onions in the milk for 5 minutes.
In a medium sized bowl add flour, dried sage and salt, and whisk to combine.
Heat oil in a large heavy pan or deep fryer.
Take a handful of onions and toss them in the flour to coat.
Fry in batches in oil for about 2 minutes, stirring as needed to brown evenly.
Drain on paper towels and season to taste with paprika.
Prepare the Green Beans & Build Casserole:
Preheat oven to 475 degrees F.
Bring a large saucepan of water and 1 tsp of salt to a boil.
Add the beans and blanch for 3 minutes. Drain and set aside to allow all water to drop from beans.
To the sauce pan with the mushroom cauliflower soup, add the green beans, ¼ of the french fried onions, and mix to combine.
Place in a large casserole dish, and bake for 15 minutes or until bubbling.
Remove, topped with remaining french fried onions and serve immediately.
Originally posted 2019-03-12 14:01:53.