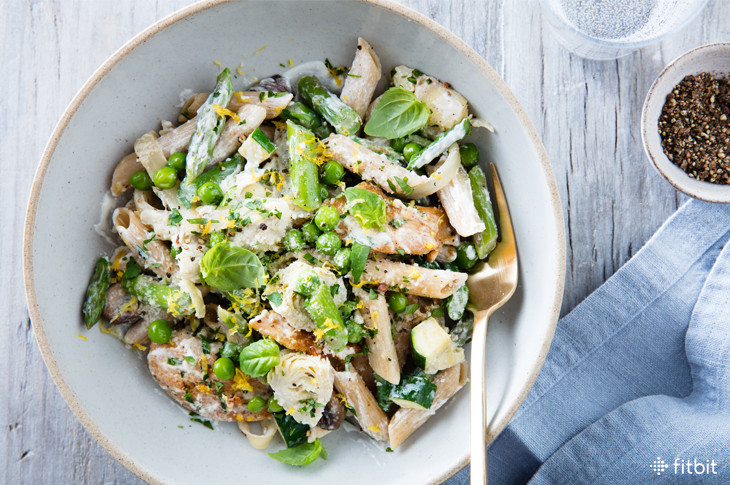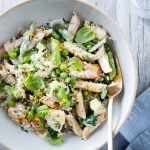 Ingredients
Salt and freshly ground pepper
12 oz (375 g) whole-wheat penne
12 oz (375 g) skinless, boneless chicken breasts, thinly sliced
2 tablespoons extra-virgin olive oil, plus more for drizzling
1 cup (3 oz/90 g) sliced mushrooms
1 yellow onion, sliced
3 cloves garlic, minced
½ cup (4 fl oz/125 ml) chicken stock, reduced sodium
1 bunch asparagus, trimmed and cut into bite-size pieces
2 zucchini, trimmed and cubed
1 cup (5 oz/155 g) peas, fresh or thawed if frozen
1 can (15 oz/475 g) artichoke hearts, packed in water, drained
½ cup (4 oz/125 g) Greek yogurt, plain, low-fat
½ cup (2 oz/60 g) shredded Parmesan cheese
¼ cup (1/3 oz/10 g) chopped fresh basil leaves
2 tablespoons chopped fresh parsley leaves
Instructions
Bring a large pot of salted water to a boil. Add the penne and cook until tender, according to package instructions. Reserve 1 cup (8 fl oz/250 ml) of the pasta water, drain the penne, and set aside.
Season the chicken with ¼ teaspoon each salt and pepper. In a large skillet over medium-high heat, warm 1 tablespoon of the olive oil. Add the chicken and cook until golden brown and no longer pink at the center, flipping once or twice, about 5 minutes. Transfer the chicken to a plate and set aside.
Return the skillet to the heat and warm the remaining 1 tablespoon olive oil. Add the mushrooms and cook until they release their liquid, 5 minutes. Transfer to a plate and set aside. Return the pan to the heat and add another drizzle of olive oil, if necessary. Add the onion and sauté until it begins to soften, 3 minutes. Add the garlic and stir until fragrant, 1 minute. Add the chicken stock and simmer to reduce the liquid slightly, 5 minutes. Add the asparagus, zucchini, and peas and cook until bright green and tender-crisp, 3 minutes. Stir in chicken, mushrooms, and artichoke hearts and cook just to warm through, 1 minute longer.
In a large bowl, combine the penne with the warm vegetable mixture. Add the Greek yogurt and half of the Parmesan and toss to combine. Add a splash of pasta water, if necessary, to loosen the mixture. Season with salt and pepper to taste. Garnish with the basil and parsley, sprinkle with the remaining Parmesan, and serve warm.
Originally posted 2019-03-12 14:00:50.
Originally posted 2019-03-12 14:00:50.