8. Steak and Asparagus Eggs Benedict with Spicy Hollandaise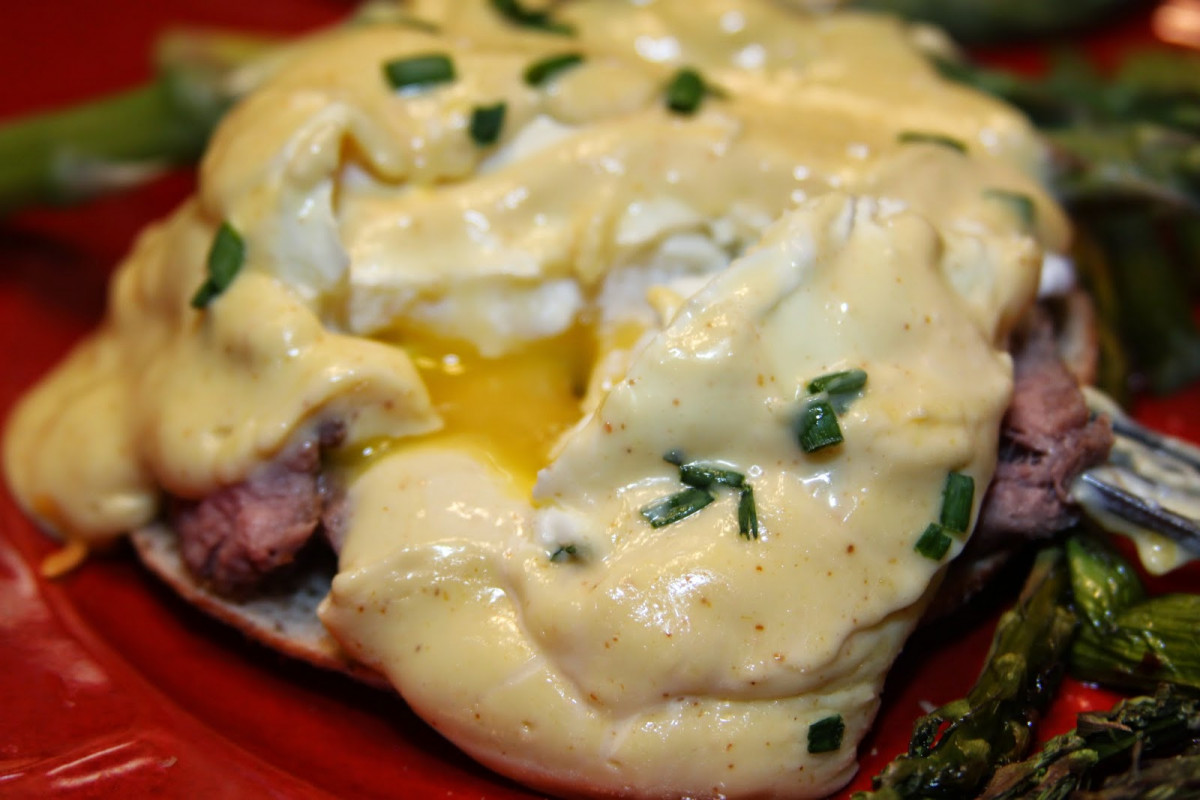 Ingredients:
Makes 4 servings
 2 sirloin or filet steaks, cooked to desired temp
1 bunch asparagus, ends trimmed
1 tbsp garlic, minced
4 eggs
2 tbsp white vinegar
bread of choice, split and toasted (I recommend Bagel Thins or English Muffins)
olive oil, for saute
salt/cracked black pepper, to taste
chives, chopped for garish
Hollandaise:
3 egg yolks
1 1/2 tablespoons lemon juice
1/2 teaspoon salt
1/4 teaspoon cayenne
10 tablespoons unsalted butter
Instructions:
Preheat oven to 375 degrees.
Reserve 8 asparagus stalks and toss the remaining asparagus in olive oil and season with salt and pepper. Spread on a baking sheet and roast for 20 minutes, tossing once in between.
Season steaks with salt and pepper and rubbed with fresh garlic.
Cook in a heavy skillet with a swirl of olive oil over medium heat until desired temperature.
Remove from heat and let rest 10-15 minutes before slicing.
Meanwhile take the remaining 8 asparagus stalks and steam until cooked but still with some crunch, about 10-15 minutes.
For poached eggs:
   Bring a pot of 4 cups of water and 2 tablespoons white vinegar to a boil over medium, then turn down to a simmer.
Break eggs, one at a time into a bowl and slide into simmering water.
Cook for 2 minutes, until whites are cooked but yolk is still runny.
Remove with a slotted spoon.
For Hollandaise sauce:
Melt the butter slowly in a small pot. Try not to let it boil – you want the moisture in the butter to remain there and not steam away.
  Add the egg yolks, lemon juice, salt and cayenne into a bowl. Blend the egg yolk mixture at a medium speed with an immersion blender (or use a traditional bender) until it lightens in color, about 20-30 seconds.
 Once the yolks have lightened in color, turn the blender down to its lowest setting and drizzle in the melted butter slowly, while the blender is going until it is a smooth sauce.
To plate:
Place one lightly toasted piece of bread (I used Bagel Thins) face up on a plate.
Top with sliced steak (4-5 pieces).
Add poached egg then 2 steamed asparagus spears.
Top with a couple spoonfuls of Hollandaise sauce and a garnish of chives.
I served my roasted asparagus on the side with cheese grits.
Serve with cheese grits and fruit.
Originally posted 2019-03-12 14:01:49.