28. Grilled Asparagus and Steak Salad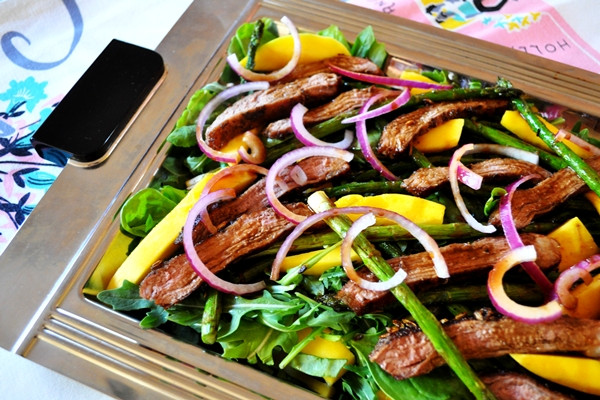 Ingredients:
1/2 teaspoon ground black pepper
1 teaspoon coriander
1 teaspoon fennel seeds
1 pound flank steak
1 pound asparagus, trimmed
3 tablespoons chicken broth
2 tablespoons sweet soy sauce
2 tablespoons olive oil, divided
2 tablespoons white wine vinegar
2 teaspoons fresh ginger, grated
1 teaspoon Chinese mustard
1 garlic clove, grated
Salt and pepper to taste
4 cups baby spinach
1 mango, peeled and cut into wedges
1/2 red onion, thinly sliced
Instructions:
Preheat a grill to 450 degrees F.
Combine the pepper, coriander and fennel seeds all in a small bowl.
Coat the steak with one tablespoon of olive oil. Then sprinkle the pepper mixture over the steak and set aside for one hour. Coat the asparagus with the remaining oil, salt and pepper.
Grill the steak until nice grill marks appear, about five minutes per side. Transfer steak to a cutting board, tent with foil and let rest. While the steak rests, place the asparagus on the grill and cook until tender, about five minutes.
While the steak and asparagus cook, make the vinaigrette by whisking together the broth, soy sauce, remaining oil, vinegar, ginger, mustard, garlic, salt and pepper in a medium bowl and set aside.
Arrange the spinach, mango, asparagus, steak and onion on a platter. Drizzle with the vinaigrette and serve.
Originally posted 2019-03-12 14:01:49.