4. Skillet Steak with Asparagus and Potatoes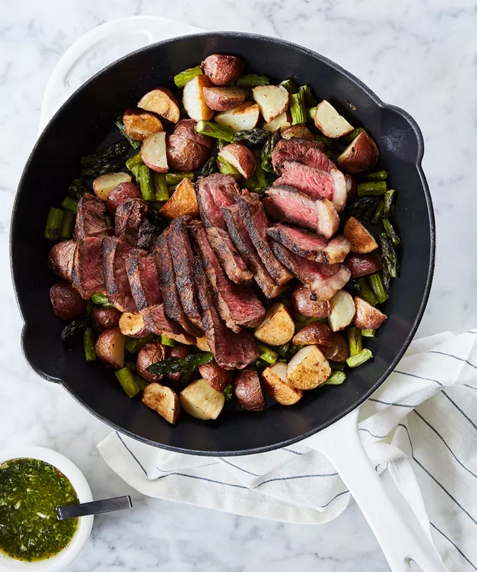 Ingredients:
STEAK
½ pound baby red potatoes, halved
¼ cup extra-virgin olive oil, divided
Salt and freshly ground black pepper
1 bunch asparagus, cut into bite-size pieces
1 teaspoon smoked paprika
1 teaspoon garlic powder
1½ pounds sirloin or strip steak
HERB SAUCE
Zest and juice of 1 lemon
¼ cup finely chopped fresh parsley
2 tablespoons finely chopped fresh mint
1 garlic clove, smashed
Salt and freshly ground black pepper
1 pinch red-pepper flakes
2 tablespoons extra-virgin olive oil
Instructions:
Preheat the oven to 400°F.
COOK THE STEAK: In a large oven-safe skillet, toss the potatoes with 2 tablespoons of the olive oil and season with salt and pepper. Transfer to the oven and roast the potatoes until they just start to become tender, 15 to 17 minutes.
Add the asparagus and drizzle 1 tablespoon more oil in the pan. Roast until the vegetables are tender, 12 to 15 minutes more. Remove the veggies from the pan and reserve. Lower the oven temperature to 350°F.
Brush the steak on both sides with the remaining 1 tablespoon olive oil. Season with the smoked paprika, garlic powder, salt and pepper.
Add the steak to the hot pan and sear on both sides, 4 to 5 minutes per side (place the pan over medium heat on the stove top if needed). Transfer the skillet to the oven and cook the steak until it reaches the desired doneness, 10 to 12 minutes more for medium rare.
Remove the steak from the pan and let it rest for 15 minutes.
MAKE THE HERB SAUCE: In a small bowl, whisk the lemon zest, lemon juice, parsley, mint, garlic, salt, pepper, red-pepper flakes and olive oil to combine.
Slice the steak into thin pieces and spoon the sauce on top of the potatoes and asparagus. Serve immediately.
Originally posted 2019-03-12 14:01:49.