When we had gotten it just right, the kitchen was silent with smiles and that "whoa, this tastes good" reaction. From the charred broccoli, to the soft and silky white beans, to the garlic and shallots that get sautéed in the salty bacon drippings….. At the end, a splash of lemon, crack of black pepper, and fresh parsley brightening every element.
It's a dish you'll be able to make from memory, and can be on the table in less than 45 minutes.Serve it hot or room temperature, as a side dish or a main, change it up with roasted cauliflower, or basil instead of parsley.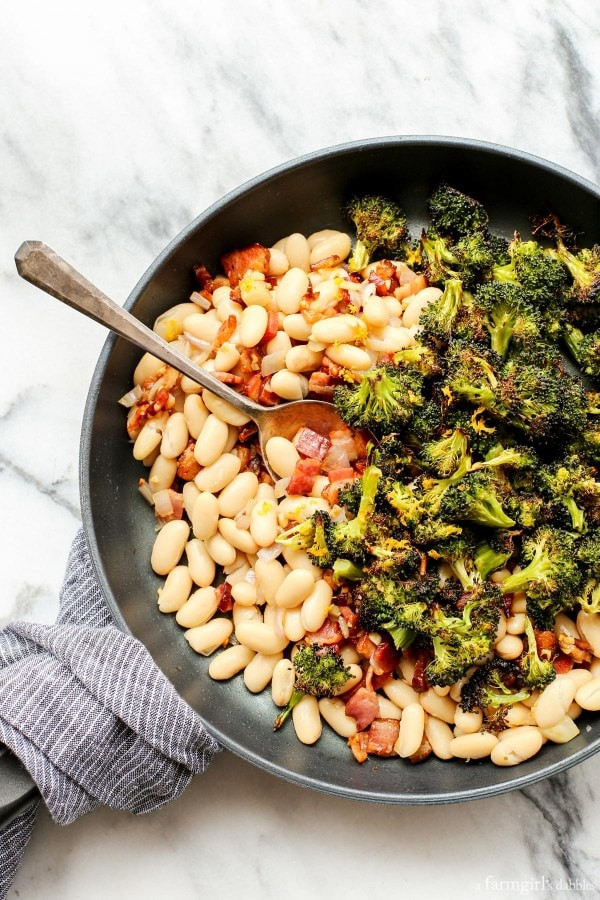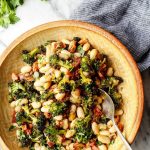 Ingredients
1 small head of broccoli, cut into florets (3/4 pound)
1 1/2 tablespoons olive oil
1/4 teaspoon salt
1/2 pound thick cut bacon (5 slices), cut into small matchsticks
1 (15 ounce) can white beans, drained
1 medium shallot, chopped
2 large cloves of garlic, minced
1/2 medium lemon
2 tablespoons fresh minced parsley
1/4 teaspoon black pepper
Instructions
Place a large roasting pan in the lower half of the oven and preheat the oven to 375°F. Once the oven is preheated, remove the heated pan and spread the broccoli florets out on it.
Then drizzle the broccoli with olive oil. Sprinkle with salt and toss just a bit to combine. Return the pan to the oven and roast the broccoli for 15 minutes. Toss the broccoli and roast for another 15 to 20 minutes, or until broccoli is just softened and nicely caramelized and charred. Remove pan from oven and set aside.

While broccoli is roasting, heat a medium-large skillet over medium to medium-high heat. Fry the bacon pieces, stirring occasionally, until bacon is crispy on the edges but still mostly chewy. Once most of the fat has rendered from the bacon, drain all but 2 tablespoons of the fat from the skillet.

…..
Visit Roasted Broccoli and Lemony White Beans with Bacon for full instructions
Originally posted 2019-01-26 13:07:15.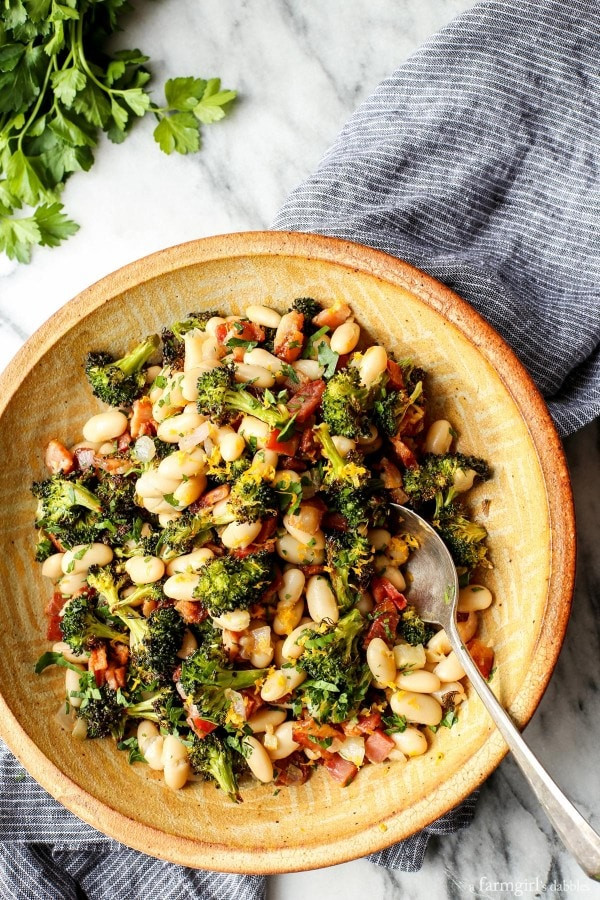 Originally posted 2019-01-26 13:07:15.