27. Flank Steak with Chimichurri, Asparagus & Cauliflower Rice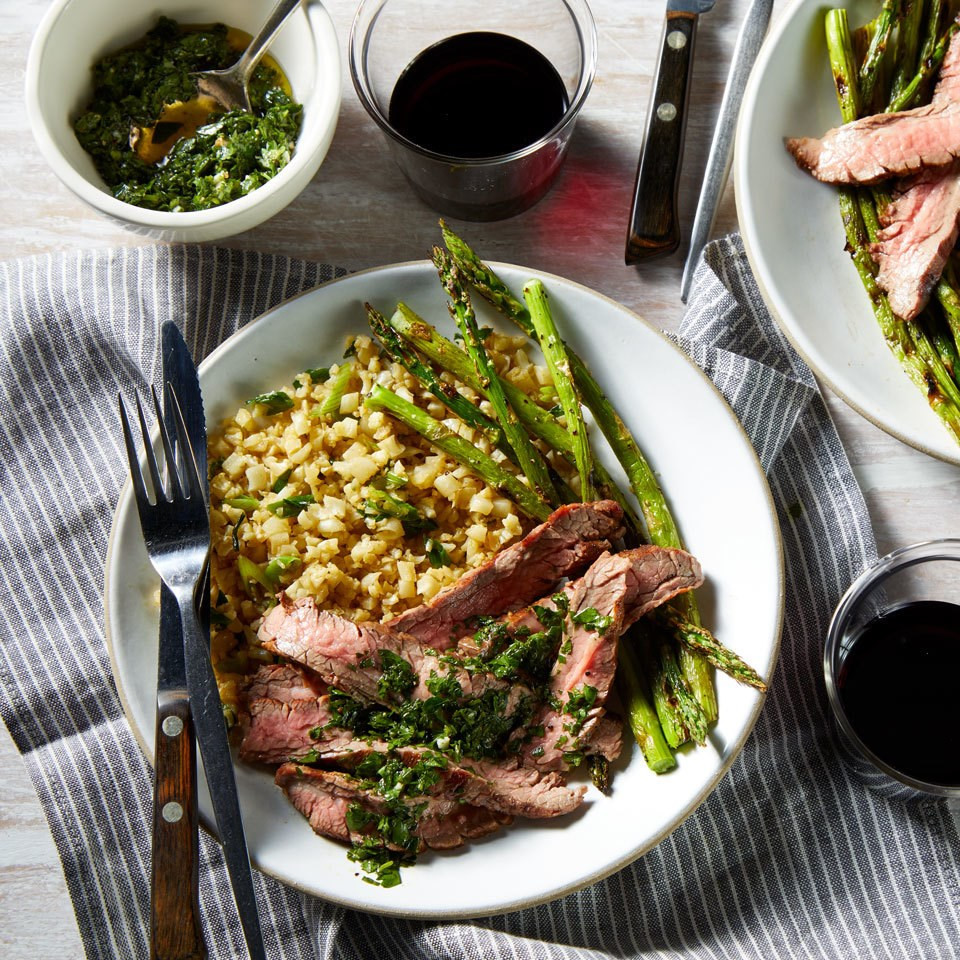 Ingredients:
Chimichurri Sauce
1 cup packed fresh parsley leaves

1 small clove garlic, chopped

2 tablespoons white vinegar

2 tablespoons extra-virgin olive oil

¼ teaspoon ground pepper

⅛ teaspoon salt
Cauliflower Rice
1 tablespoon extra-virgin olive oil

1½ cups riced cauliflower

2 scallions, chopped

⅛ teaspoon salt

⅛ teaspoon ground chipotle pepper
Steak & Asparagus
8 ounces asparagus, trimmed

1½ teaspoons extra-virgin olive oil

8 ounces flank steak, trimmed

¼ teaspoon salt

¼ teaspoon ground pepper
Instructions:
Preheat grill to medium-high.

To prepare chimichurri sauce: Chop parsley and garlic together until finely chopped. Transfer to a small bowl and add vinegar, 2 tablespoons oil, ¼ teaspoon pepper and ⅛ teaspoon salt. Stir to combine.

To prepare cauliflower rice: Heat 1 tablespoon oil in a medium skillet over medium heat. Add cauliflower, scallions, ⅛ teaspoon salt and chipotle. Cook, stirring, until tender, 4 to 5 minutes. Remove from heat; cover to keep warm.

To prepare steak & asparagus: Toss asparagus with oil. Sprinkle the asparagus and steak with salt and pepper. Grill the steak for 5 minutes. Turn the steak and add the asparagus to the grill. Cook, turning the asparagus once or twice, until the asparagus is tender and the steak is cooked to your liking, 4 to 6 minutes more for medium rare. Let the steak rest for 5 minutes before slicing.
To make ahead: Refrigerate chimichurri sauce (Step 2) for up to 2 days.
Originally posted 2019-03-12 14:01:49.