13. Sliced Hanger Steak with Roasted Tomatoes, Olives, Potato Salad with Dijon and Egg, Asparagus with Lemon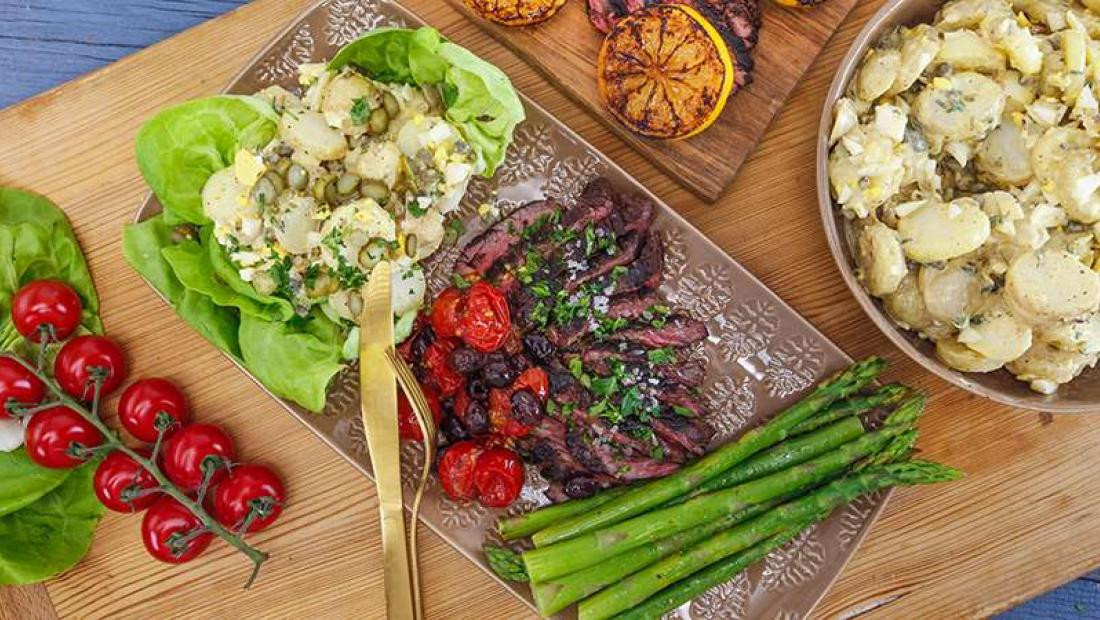 Ingredients:
For the Steaks
2 pints cherry or grape tomatoes, halved
About ¾-1 cup Nicoise olives, pitted
1 tablespoon Herbes de Provence (scant palmful)
EVOO, for liberal drizzling (about 4 tablespoons total)
2 pounds hanger steak or flank steak, cut into 4 portions
Salt and black pepper
1 lemon, halved
A small handful of parsley, finely chopped
Flaky sea saltFor the Potato Salad
2 pounds small white potatoes, diced
Salt
3-4 tablespoons grated onion or minced onion and its juice
1 clove garlic, grated or pasted
2 tablespoons white wine vinegar
3 tablespoons Fabanaise, aquafaba chickpea spread or mayonnaise
2 round tablespoons Dijon mustard
1 scant tablespoon extra-virgin olive oil (EVOO)
2 teaspoons Worcestershire sauce
2 round tablespoons pickle relish
2 tablespoons small capers in brine, drained
3 store-bought hard-boiled eggs
2 tablespoons chopped thyme
Bibb lettuce leaves, to serve
Thinly sliced cornichons and minced parsley, to serve
For the Asparagus
1 bundle asparagus, trimmed of tough ends
Salt
1 lemon, half thinly sliced
2 tablespoons butter
Instructions:
For steaks, preheat oven to 400˚F. Arrange the tomatoes and olives on a foil-lined baking sheet and dress with Herbes de Provence and half the oil. Roast the tomatoes until browned at edges and slumped, about 25 minutes.
Meanwhile, heat a cast-iron griddle or skillet on stove or grill to medium-high heat. Bring meat to room temperature. Season the meat liberally with salt and pepper, and drizzle with oil to coat. Grill meat 8 minutes, turning occasionally. Grill halved lemon for last 2 minutes. Let meat rest 5-10 minutes, thinly slice against the grain, dress with juice of lemon and parsley, top with flaky sea salt and roasted tomatoes and olives.
For potato salad, place potatoes in pot, cover with cold water, bring to a boil and salt the potatoes. Cook potatoes to just tender, 8-10 minutes. Drain, and return to hot pot to dry them then transfer to a bowl or baking sheet to cool.
In a second mixing bowl, combine the onion, garlic, white wine vinegar, vegan mayo or mayo, Dijon, EVOO, Worcestershire, relish and capers. Season the dressing with salt and pepper. Add potatoes to dressing and toss to coat, then fold in chopped hard boiled eggs and thyme.
For asparagus, in a skillet, bring ⅛-inch water to boil, add asparagus, salt, sliced lemon and butter, then cook to almost evaporate liquid. Douse with juice of remaining half-lemon, and serve.
Serve steak on platters topped with tomatoes, potato salad in lettuce leaf cups topped with parsley and cornichons and asparagus spears garnished with a slice of lemon alongside.
Originally posted 2019-03-12 14:01:49.