6. Broiled Steak & Asparagus with Feta Cream Sauce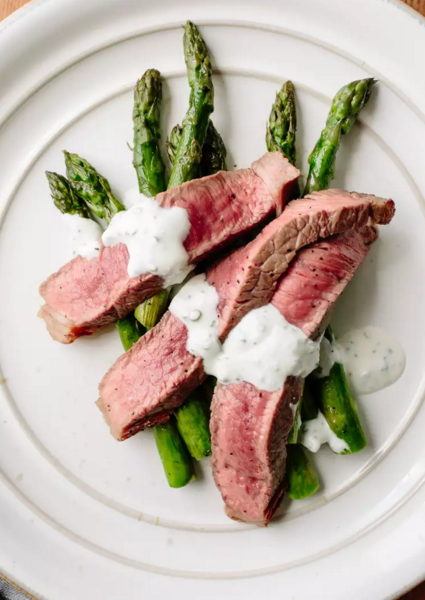 Ingredients:
Olive oil cooking spray
2 bunches asparagus (about 2 pounds)
5 tablespoons extra virgin olive oil
3/4 teaspoon kosher salt
1/2 teaspoon freshly ground black pepper
2 sirloin tip steaks (each 1 to 1 1/2 inches thick; about 2 1/4 pounds total)
1 cup (about 6 ounces) crumbled feta cheese
1/2 cup sour cream
2 tablespoons apple cider vinegar
1/4 cup finely chopped fresh chives
Instructions:
Preheat the broiler with a rack about 4 inches from the heat. Line a sheet pan with aluminum foil and mist a wire rack about the size of the sheet pan with cooking spray.
Snap off the bottom of one asparagus spear, to see where it breaks easily. Line up the rest of the bunch and slice off the bottoms at the same spot. Place the trimmed asparagus on the prepared pan, drizzle with 3 tablespoons of the olive oil, sprinkle with 1/4 teaspoon salt and 1/4 teaspoon black pepper, and toss to coat. Arrange the asparagus in a single layer around the perimeter of the pan and set the wire rack on top, nudging the asparagus aside as needed so the rack lies flat and even.
Blot the steaks dry with a paper towel. Season both sides with the remaining 1/2 teaspoon salt and 1/4 teaspoon pepper. Place the steaks on the wire rack.
Place the pan under the broiler (the steaks should be about an inch from the heat). Broil, flipping the steaks once, until well browned and charred at the edges, 4 to 5 minutes per side for medium-rare. (If you prefer your steak more or less done, adjust the cooking time accordingly.)
While the steaks and asparagus cook, make the feta cream sauce: Combine the feta cheese, sour cream, remaining 2 tablespoons olive oil, and cider vinegar in a food processor or blender. Puree the ingredients until smooth. Add salt and pepper to taste and give the sauce one last pulse. Pour the sauce into a bowl and fold in the chives.
Remove the pan from the broiler and allow the steak and asparagus to rest for 10 minutes on the rack. Transfer the steak to a cutting board before slicing it thinly against the grain. Serve the steak and asparagus with the feta cream sauce.
Originally posted 2019-03-12 14:01:49.