5. Sheet Pan Flank Steak with Onions and Asparagus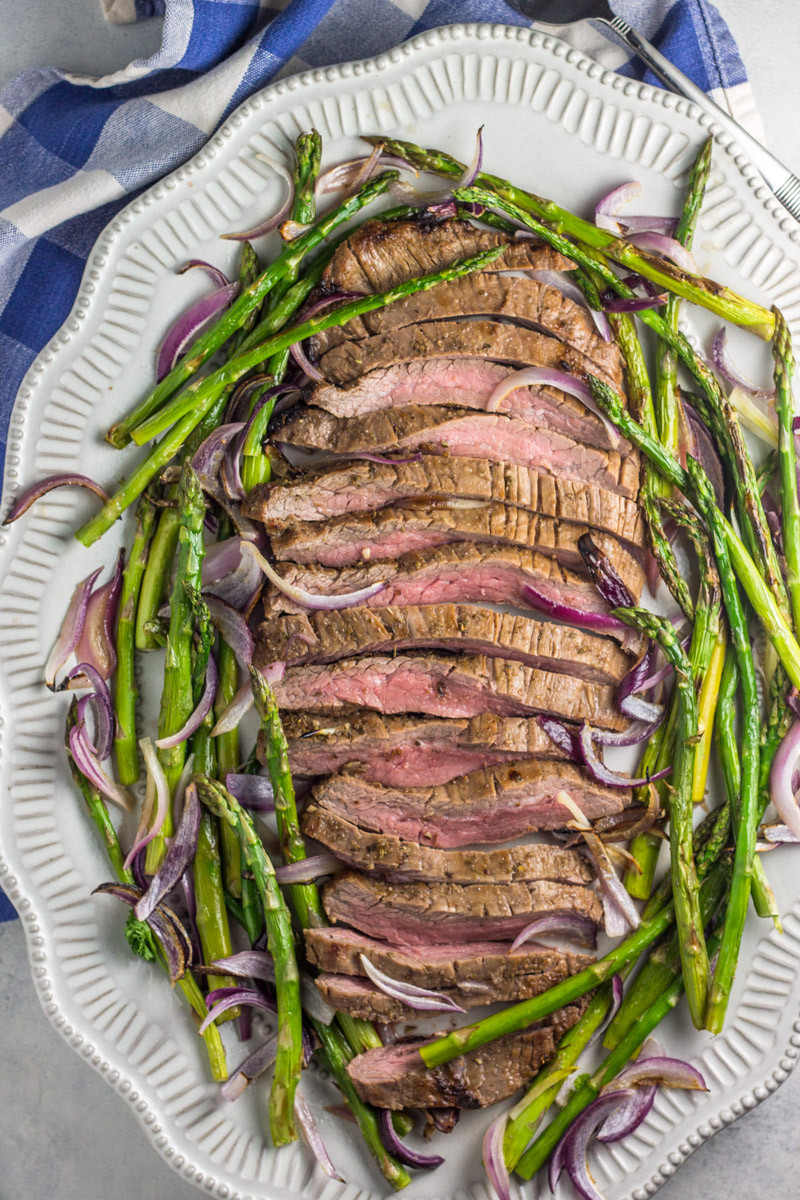 Ingredients:
1 1/2 pound flank steak
2/3 cup olive oil
1/4 cup red wine vinegar
1/3 cup coconut aminos
1 teaspoon salt
2 teaspoons dried oregano
2 teaspoons onion powder
2 cloves crushed garlic
1 red onion
8 ounces asparagus spears
salt
Instructions
Combine the olive oil, red wine vinegar, coconut aminos, salt, dried oregano, onion powder, and garlic. Place the flank steak in a large sealable bag or flat container and the marinade then store in the refrigerator and marinate all day or overnight
Adjust an oven rack to the top slot, roughly 6 inches from the ceiling of the oven, then turn oven to broil (on high if oven settings are customizable, roughly 550 degrees)
Place the baking sheet into the oven and let it heat for 5 minutes as the oven gets hot
Slice the red onion thinly and separate the pieces and lightly coat (or spray) the asparagus with oil. Sprinkle with salt
After the sheet pan is hot, remove from the oven and place the flank steak in the center, and arrange the asparagus and red onion in an even layer around the perimeter
Place the sheet pan back into the oven and cook for 6 minutes for medium rare steak, 7-8 minutes for well done
Remove the sheet pan from the oven, and transfer the steak to a plate or cutting board. Let sit for 5 minutes before slicing and serving with the roasted asparagus and onions.
Originally posted 2019-03-12 14:01:49.