2. Grilled Asparagus & Steak Fajita Roll-Ups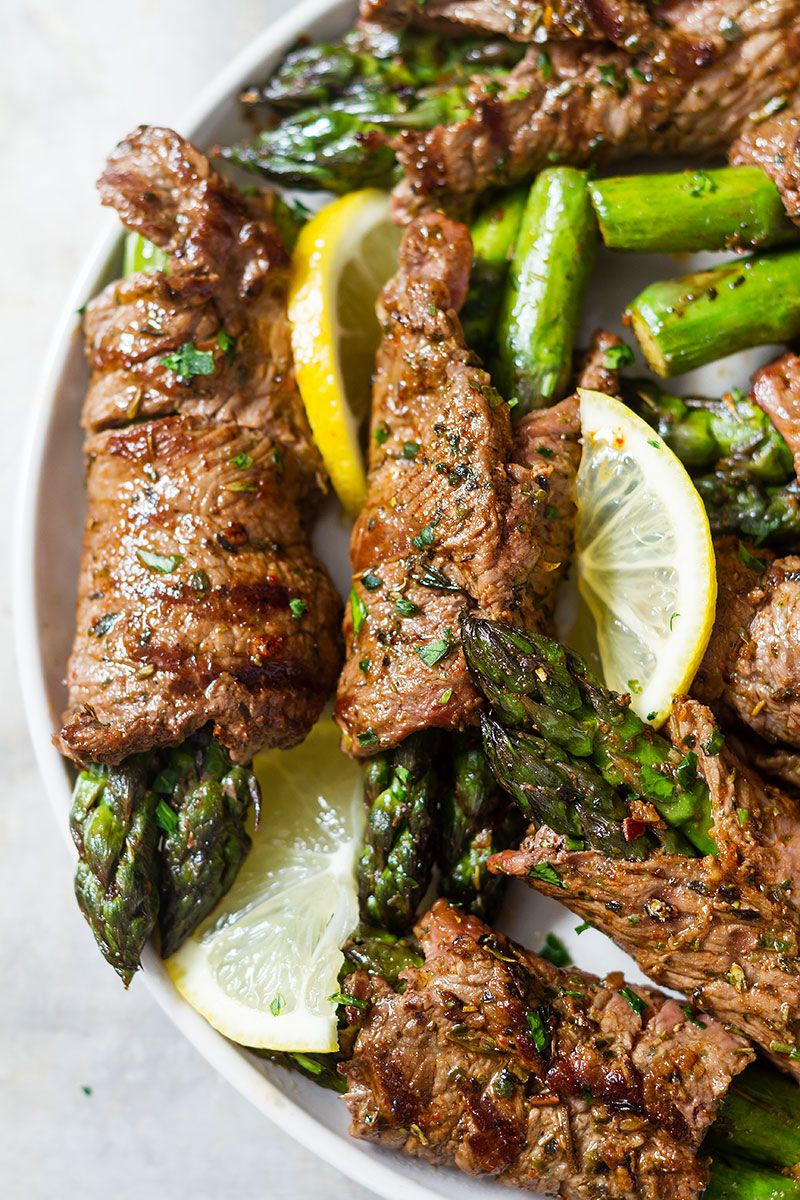 Ingredients:
1 pound (450g) thinly sliced sirloin tip steak
1 bunch of asparagus, washed and trimmed
1/2 tablespoon olive oil
1 lemon, juiced
Chopped fresh cilantro, for garnish
Lemon slices, for garnish
The homemade Fajitas seasoning mix
1 teaspoon chili powder
1 teaspoon paprika
1 teaspoon garlic powder, or minced garlic
1 teaspoon cumin
1/2 teaspoon Italian spice mix
1 teaspoon sea salt
1/4 teaspoon fresh ground pepper
Yogurt sauce
1 greek yogurt
2 tablespoons olive oil
1 tablespoon lemon juice
Chopped cilantro, to taste
Salt and fresh cracked pepper, to taste
Instructions:
Prepare the fajitas seasoning mix by combining chili powder, paprika, garlic powder, cumin, oregano, salt and pepper and set aside. Combine the ingredients for the yogurt sauce together and set aside.
Cut the steak into thin, long strips and rub with some of the prepared fajita mix and set aside.
Heat olive oil in a grill pan over medium-high heat and add asparagus; season with salt, pepper, and a sprinkle of the fajitas seasoning mix. Cook for about 4 to 5 minutes, or until crisp-tender. Remove from heat and let cool for a minute.
Top each slice of steak with two asparagus; roll up and secure with a toothpick. Heat up the same grill pan and add the steak roll-ups. Cook until browned, about 2 to 3 minutes per side. Remove from heat, remove toothpicks, and transfer to a serving plate.
Squeeze lemon juice over the roll ups and garnish with chopped cilantro and lemon slices. Serve with the prepared yogurt sauce for dipping. Enjoy!
Originally posted 2019-03-12 14:01:49.