1. Vegan Lentil Chili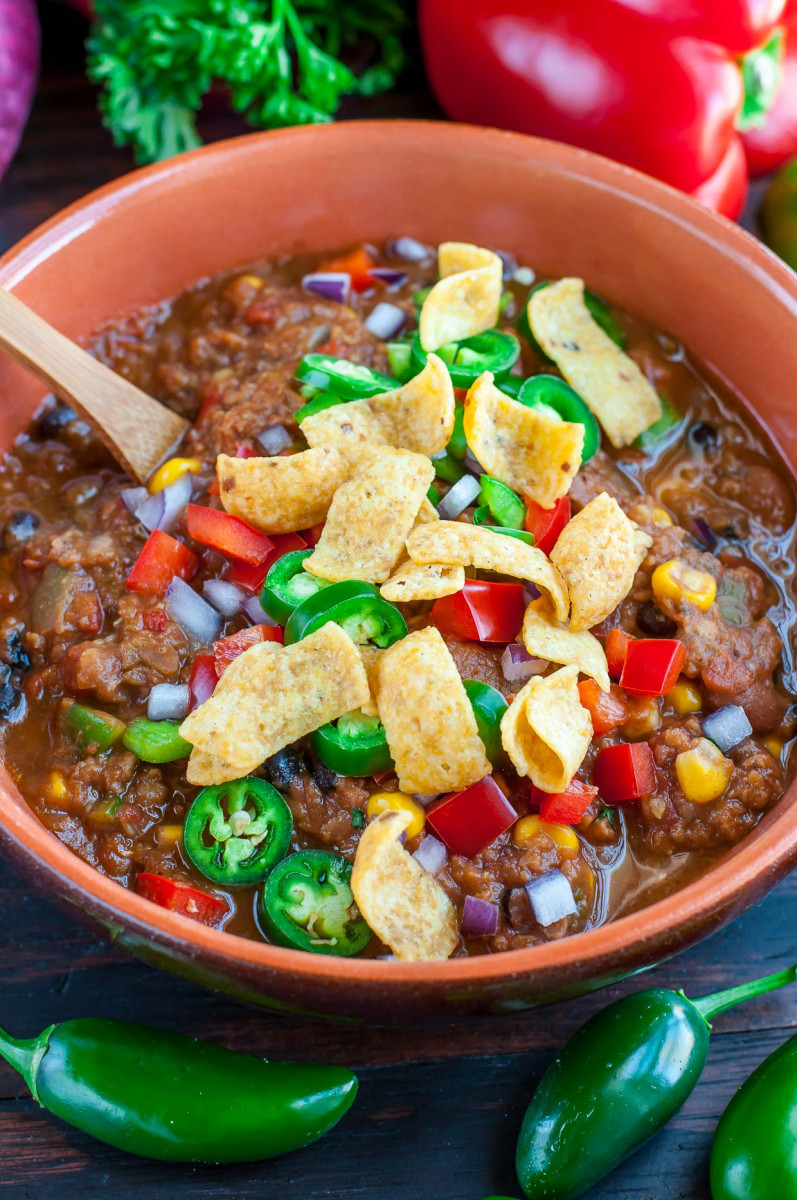 Ingredients:
2

cups

yellow onion

diced

1

TBSP

olive oil

1

large green bell pepper

diced

1

large red bell pepper

diced

2

jalapeños plus extra to garnish

2-4

cloves

garlic

minced

1

cup

corn

frozen or fresh

15

oz

can spicy chili beans with sauce

1

cup

black beans

(drained and rinsed)

2

TBSP

chili powder

1

TBSP

cumin

1

tsp

dried oregano

1/2

tsp

smoked paprika

plus extra to taste

salt and pepper to taste

2

cups

veggie broth

1

cup

dried red lentils

2

cups

crushed tomatoes
EXTRAS:
diced jalapenos or cayenne pepper for a kick

veggie broth or tomato sauce to adjust thickness if desired

all the tasty toppings your heart desires!
TOPPING INSPIRATION:
sliced or diced jalapeños

chopped red onion

fresh pico de gallo or salsa

sliced avocado

fresh cilantro

sour cream or greek yogurt

if vegetarian/t-rex

shredded cheddar cheese

if vegetarian/t-rex

crushed tortilla chips

corn chips

corn bread crumbles

and so much more…
Instructions:
Below are the electric pressure cooker instructions. For stove top or slow cooker instructions, see blog post below.

First chop your veggies and measure out the ingredients.

Switch your pressure cooker to the saute funtion and saute 1 TBSP oil with onion for 3-5 minutes, until edges are golden and browned.

Then add garlic, peppers, and corn, and cook for an additional 3-5 minutes to soften slightly.

Add lentils, veggie broth, chili beans, black beans and spices.

Set to high pressure for 15 minutes and allow to come to pressure.

Allow a natural pressure release.

Lastly, stir in crushed tomatoes and adjust broth/tomato/seasoning to taste, adding more of what you prefer to get your ideal thickness and flavor punch.

I added the crushed tomatoes at the end to avoid overstuffing my pressure cooker and score a quicker cook time as well. Since my crushed tomatoes were canned (LOVE muir glen's organic tomato basil) they took zero time to heat up once swirled into my piping hot pot-o-chili. Sweet!

If you want to dive in sooner, feel free to manually release the pressure on your Instant Pot by flipping the little lever from seal to vent. Worst case scenario, if your chili needs a little extra time you can seal it back up and give the veggies extra time to soften. Pressure cookers are pretty forgiving like that!

Add all your favorite toppings and dive in!
Recipe Notes
Feel free to adjust the consistency of the chili to your liking. As written it's perfectly thick and full of delicious texture, but can be thinned with a little broth or tomato sauce if desired! If you add a lot of extra liquid, consider amping up the spices a smidge to compensate. You can also make this as mild or as spicy as you'd like. As written it is pretty mild, then the jalapeños I added on top of one bowl really amped up the heat!
A Note on Salt and Pepper :: I leave salting the dish to the end to prevent over-seasoning. Depending on the brand and type of broth, tomatoes, and beans that you use, the sodium content will vary. I used low sodium broth, regular organic canned tomatoes, and didn't salt my chili.
Pressure cooker recipes always leave out the details so here's a breakdown of what you can expect time-wise: About 13 minutes to come to pressure plus 15 minutes cook time and 15 or so to release pressure. You won't need to be anywhere near your kitchen for this all to partake, the Instant Pot will handle it all and switch to warm once it's done. So fabulous right?
Originally posted 2019-03-12 14:01:51.