5. Meatball Marinara Cups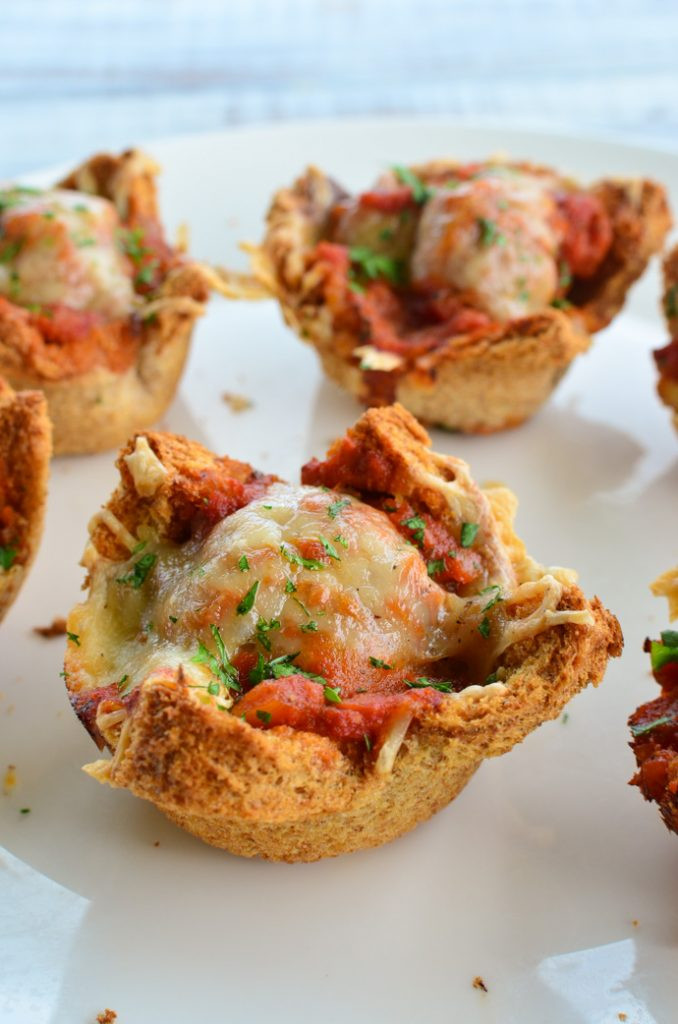 Ingredients:
350g/12.5oz of extra lean ground beef
salt and black pepper
pinch of garlic powder
pinch of onion powder
approx 1 cup (240ml) of marinara sauce
8 regular slices of whole wheat bread (4xHEb')
90g/3oz of mozzarella cheese (2xHEa's)
spray oil
finely chopped fresh Italian parsley or basil
For Marinara Sauce:
3 large beefsteak tomatoes (or large tomatoes) peeled and chopped
1 small onion, finely chopped
1 small carrot, finely chopped
2 cloves of garlic
1 tablespoon of olive oil (6 syns) or use a spray oil to make this free
1 tablespoon of tomato paste
1 cup (240ml) of chicken or vegetable broth
1 tablespoon of balsamic vinegar
chopped fresh basil and Italian parsley
salt and black pepper to season
Instructions:
Make the Marinara Sauce:
Add the olive oil to a pan over a medium heat.
Add the onion, carrot and garlic and saute for about 5 mins.
Add the tomatoes and continue to saute until the tomatoes start to break down
Add the tomato paste, balsamic vinegar and stock and bring to a boil.
Reduce heat and simmer until stock reduces down – approx 20-30 mins
Roughly blend with a stick blender, add freshly chopped basil and parsley and season to taste with salt and black pepper.
Can be use straight away on pasta or veggies noodles or placed in a lidded jar in the fridge.
This can also be frozen.
Make the Meatball Marinara Cups:
Preheat oven to 180c/350f
Remove crusts from bread, so that each slice weighs 30g/1ozz
Using a rolling pin, roll over each slice of bread to flatten.
Spray both sides of bread with spray oil
Push down into a muffin tray to form bread cups.
Place in oven and bake for approx 20mins until lightly golden
Add ground beef, salt, pepper, garlic and onion powder to a bowl and mix well to combine.
Form into 8 meatballs (they should be about the right size to fit in each bread cup)
Place on a baking tray, spray over top with spray oil and place in the oven and bake for approx 10-15mins to lightly brown.
Once bread cups are ready and meatballs lightly browned.
Add the meatballs to bowl and cover well with marinara sauce.
Place one meatball with sauce into each toasted bread cup and then top with mozzarella cheese.
Repeat with all 8 cups.
Place back in the oven for approx 15 mins, until cheese is melted and golden.
Top with a little chopped fresh Italian parsley or basil.
Enjoy!!
Originally posted 2019-03-12 14:02:05.