18. Mozzarella-Stuffed Turkey Meatballs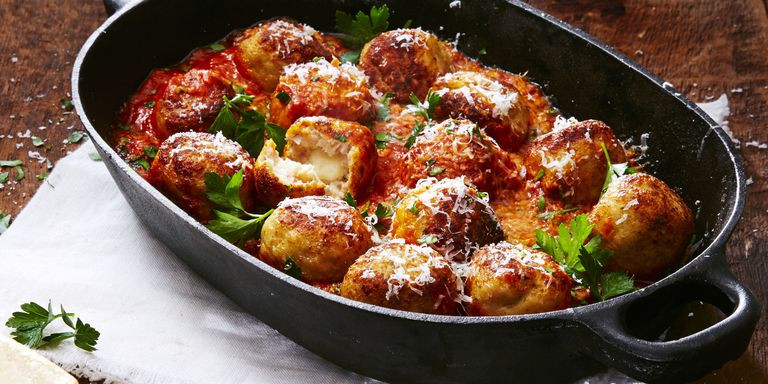 Ingredients:
20 oz. ground turkey
1/3 c. Italian seasoned bread crumbs
3 tbsp. milk
1 large egg
3 cloves garlic, finely chopped
1 tbsp. loosely packed fresh rosemary leaves, finely chopped
4 oz. part-skim mozzarella, cut into 1/2″ cubes
2 tbsp. olive oil
2 c. marinara sauce
Parsley leaves, for garnish
Grated Parmesan, for garnish
Bread, for serving
Pasta, for serving
Instructions:
In large bowl, combine turkey, bread crumbs, milk, egg, garlic, rosemary, 1/4 teaspoon salt and 1/2 teaspoon pepper. With 2-tablespoon scoop, scoop turkey mixture and press 1 cube mozzarella into center, sealing meat tightly around cheese. Repeat with remaining turkey mixture and cheese.
In 12″ skillet, heat oil on medium-high. Add turkey meatballs; cook 10 minutes or until browned on most sides. Add marinara sauce. Reduce heat to medium-low. Simmer 12 minutes or until meatballs are cooked through.
Garnish with parsley and Parmesan. Serve with bread or over pasta.
Tips
Make-ahead tip: Proceed with recipe through step 2. Transfer meatballs and sauce to container; refrigerate up to 2 days. Reheat gently in skillet on medium-low, about 30 minutes or until hot. Or transfer to glass or ceramic baking dish, cover with foil and reheat in 425 degrees F oven 40 minutes or until hot. Continue with step 3.
Originally posted 2019-03-12 14:02:05.