23. Spaghetti with Meatballs in Marinara Sauce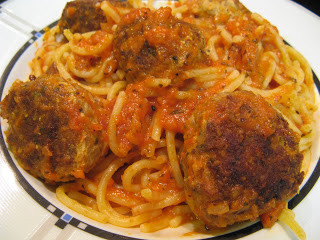 Marinara Sauce
Ingredients:
2 cloves minced garlic
1/2 cup chopped onion
1 tsp dried basil
1 tsp dried oregano
1 can no-salt-added diced tomatoes
salt
pepper
Steps:
In a medium saucepan, saute garlic and onion in a little olive oil.
Add the basil and oregano, saute a little more.
Add the tomatoes, salt and pepper. Let flavors meld over medium heat.
Blend the sauce using a hand-held immersion blender. Let simmer five to ten more minutes, adding salt and pepper to taste.
Italian Meatballs
Ingredients:
1 1/3 cups GF bread crumbs
1/3 cup chopped onion
1 lb. ground turkey
2 eggs
1 tsp garlic powder
1 1/2 tsp dried oregano
2 tsp dried basil
1 1/2 tsp salt
1 tsp pepper
Steps:
Combine all ingredients in a large mixing bowl. Mix thoroughly with your hands.
Form into meatballs slightly larger than golf ball-sized. Makes about 16 meatballs.
Heat olive oil in a saute pan on the stovetop, and brown the meatballs.
Finish the meatballs by cooking on a sheet pan for 15 minutes in a 350-degree oven.
Final Preparation:
Cook your favorite GF pasta.
Add the marina sauce to the pasta in a pot. Mix well.
Add the meatballs. Mix and serve.
Enjoy!
Tips:
This is a recipe where you're meant to get your hands dirty! Take off your rings and other jewelry and dig in there with your hands to mix the ground meat and seasonings, and to form the meatballs.
When it comes to gluten-free breadcrumbs, you don't have to be picky. Typically, we make our own breadcrumbs using whatever "bread" we happen to have in the house. In the past we've used leftover GF pancakes, stale slices of bread, arepas (a South American corn pancake), whatever. Take two or three slices of bread, pancakes, etc., and pulse them in the food processor to make quick, easy and inexpensive GF breadcrumbs!
When you're preparing to brown the meatballs, make sure you pre-heat the olive oil. If you place a meatball into the saute pan and it doesn't begin to sizzle almost immediately, it means your oil isn't hot enough. Olive oil that's too cool won't cook and brown the meatballs, and instead will just be absorbed into the ground meat, resulting in a greasy meatball. (Don't overheat your olive oil, either. If the oil is smoking, turn down the heat!)