6. Chicken Meatballs with Marinara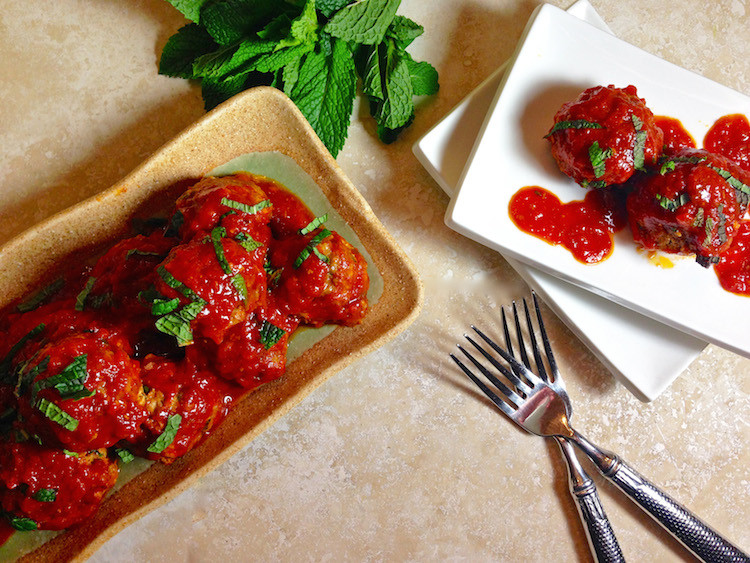 Ingredients:
Meatballs (makes about 20)
1.5 lbs ground pastured chicken
1/3 cup nut flour (Almonds, walnuts, or brazil nuts will work. Nut flour is just ground up nuts in the food processor. OR use a mixture of finely chopped up cauliflower, celery, and onions – also works well for fluffy meatballs. OR use gluten-free bread crumbs)
1/2 small onion, diced small
2 minced garlic cloves
1/4 cup of fresh, chopped flat-leaf parsley
2 eggs, whisked (for binding)
1 Tablespoon black pepper
1 teaspoon salt
A pinch of crushed red pepper flakes (optional)
olive oil (for cooking)
Marinara
1  28-oz can of San Marzano Plum Tomatoes in Sauce (or get any preserved tomatoes in glass jars – I sometimes find them at my farmer's market)
2 Tablespoons tomato paste
28 oz of water
1/4 cup olive oil
1 large diced onion
3 gloves minced garlic
2 teaspoon fresh oregano leaves
1/2 cup fresh basil leaves
2 Tablespoon of fresh chopped parsley
1/2 to 1 teaspoon of sea salt to taste
1/2 teaspoon pepper (freshly ground)
A pinch of red pepper flakes (optional)
Garnish with fresh arugula and shaved red onion (optional)
Instructions:
Marinara
Saute onions with the olive oil in a medium saucepan. Cook for about 10 minutes. Remember, you can add any vegetables you like to the marinara to make it more nutritious – kale, zucchini, carrots, etc. Add extra veggies in this step.
Add the garlic, salt, pepper, basil, oregano, tomato paste and stir together until incorporated. Pour in the can or jar of tomatoes. Fill the empty can with water and add it to the pan.
Bring to a boil then lower the heat to a simmer. Simmer for 1 hour, uncovered. Stir occasionally.
Once sauce is ready, carefully pour it into the blender or food processor and puree until smooth or chunky, whatever you prefer.
Meatballs
Once your sauce is on the stove, preheat a large frying pan with few tablespoons of coconut or olive oil over medium heat.
Add ground chicken and all the meatball ingredients into a bowl. Mix all that crap together with one of your best kitchen tools—your hands! (You don't need to beat the egg, just throw it in!)

Gently

 combine all the meatball ingredients with your hands – do not over mix or your meatballs will turn out tough.
Roll into balls about the size of golf balls (better to err on the side of too small than too big).
Fry meatballs in a skillet until browned on all sides—gentle, or they'll fall apart! You can even throw them in the sauce and cook for longer if you want them well done!
Serve the meatballs smothered in your garlicky marinara! Garnish with fresh arugula and shaved onion or shallot. You can also serve your dish over spaghetti squash, zucchini noodles, kelp noodles or with a side dish or your favorite veggies.
Originally posted 2019-03-12 14:02:05.