20. Vegan Zucchini Meatballs with Marinara Sauce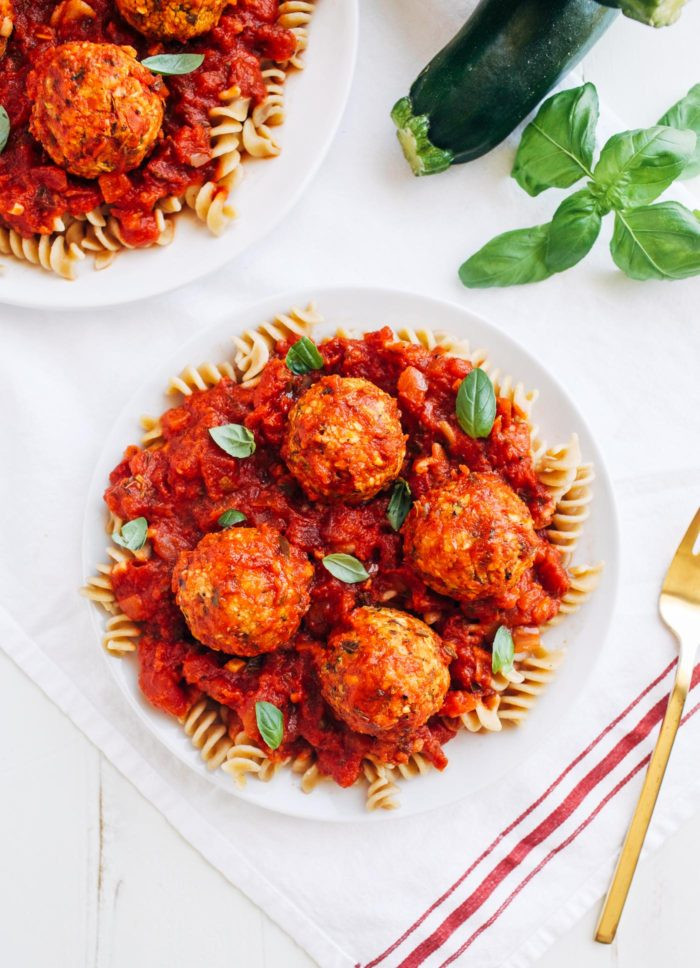 Ingredients:
1 (15-ounce) can chickpeas, drained and rinsed
3 garlic cloves
1/2 cup rolled oats*
1 teaspoon dried basil
1 teaspoon dried oregano
1/2 teaspoon salt
2 tablespoons nutritional yeast
juice of 1/2 lemon
1 cup shredded zucchini (about 1 large zucchini)
32 ounces marinara
8 ounces whole grain pasta
Instructions:
In the bowl of a food processor, combine the drained and rinsed chickpeas, garlic cloves, and rolled oats. Pulse for about 5-10 seconds, until finely chopped. When you press the mixture between your fingers, it should hold together. Transfer to a large bowl along with the dried herbs, salt, nutritional yeast, lemon juice and shredded zucchini. Do not use more than 1 cup of shredded zucchini. Stir together until well-combined. If the mixture is too wet to handle, add a little flour (you can grind extra oats into a flour) or nutritional yeast to help absorb excess moisture.
Preheat the oven to 375°F then line a baking sheet with parchment paper. Using your hands, scoop out on heaping tablespoon of the zucchini mixture at a time and roll into 12 separate balls. Arrange on the baking sheet a few inches apart then bake in the oven for 25 minutes. Meanwhile, cook pasta as directed.
Once the zucchini balls are light golden brown, remove them from the oven and set aside. Serve warm over cooked pasta with marinara sauce. Garnish with fresh basil and enjoy!
*Be sure to use certified gluten-free oats for allergies
Originally posted 2019-03-12 14:02:05.