16. Linguine with Ground Turkey Meatballs and Marinara Sauce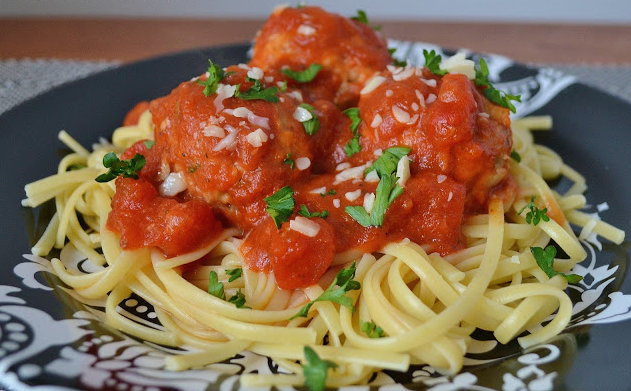 Ingredients:
20 ounce package of ground turkey
1/2 cup onions, finely diced
4 cloves garlic, minced
1 tablespoon fresh basil, minced
1 tablespoon fresh parsley, minced
1 egg
3/4 cup cracker crumbs
3 tablespoons shredded parmesan cheese, plus extra for garnish
salt and pepper
1- 24 ounce jar pasta sauce
1- 14.5 ounce can of basil, garlic and oregano diced tomatoes
8 ounces linguine, cooked according to package directions and rinsed
fresh parsley, minced for garnish
Instructions:
Preheat oven to 350 degrees.
In a bowl, combine ground turkey, onions, garlic, basil, parsley, egg, cracker crumbs, parmesan, salt and pepper. Shape into 1 inch meatballs and place in a glass baking dish in a single layer. In a separate bowl, combine pasta sauce and diced tomatoes. Pour sauce over meatballs. Bake for 30-45 minutes or until meatballs are cooked through. Serve meatballs and sauce over linguine. Garnish with parmesan and parsley.
Originally posted 2019-03-12 14:02:05.