19. Meatball Marinara Pull-Apart Buns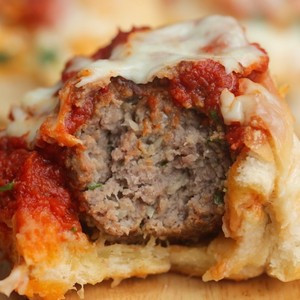 Ingredients:
500g beef mince
1 onion, grated
1 clove garlic, grated
1/2 cup breadcrumbs, fresh
1 tsp salt
1 clove garlic, grated
1/2 cup parmesan, grated
1/2 tbsp parsley, finely chopped
1 1/2 cups marinara sauce
1 cup mozzarella
12 buns
garlic parsley butter, a few tablespoons
Instructions:
Mix together the beef, onion, breadcrumbs, parmesan, parsley, salt and garlic. Form 12 meatballs. Fry in 1 tbsp oil all over until well browned.
Cut holes in your buns. Put the browned meatballs in. Spoon over the garlic parsley butter. Spoon over the marinara then sprinkle over the mozzarella.
Bake for 20 minutes at 180°C.
Destroy
Originally posted 2019-03-12 14:02:05.