13. Turkey and Bacon Meatballs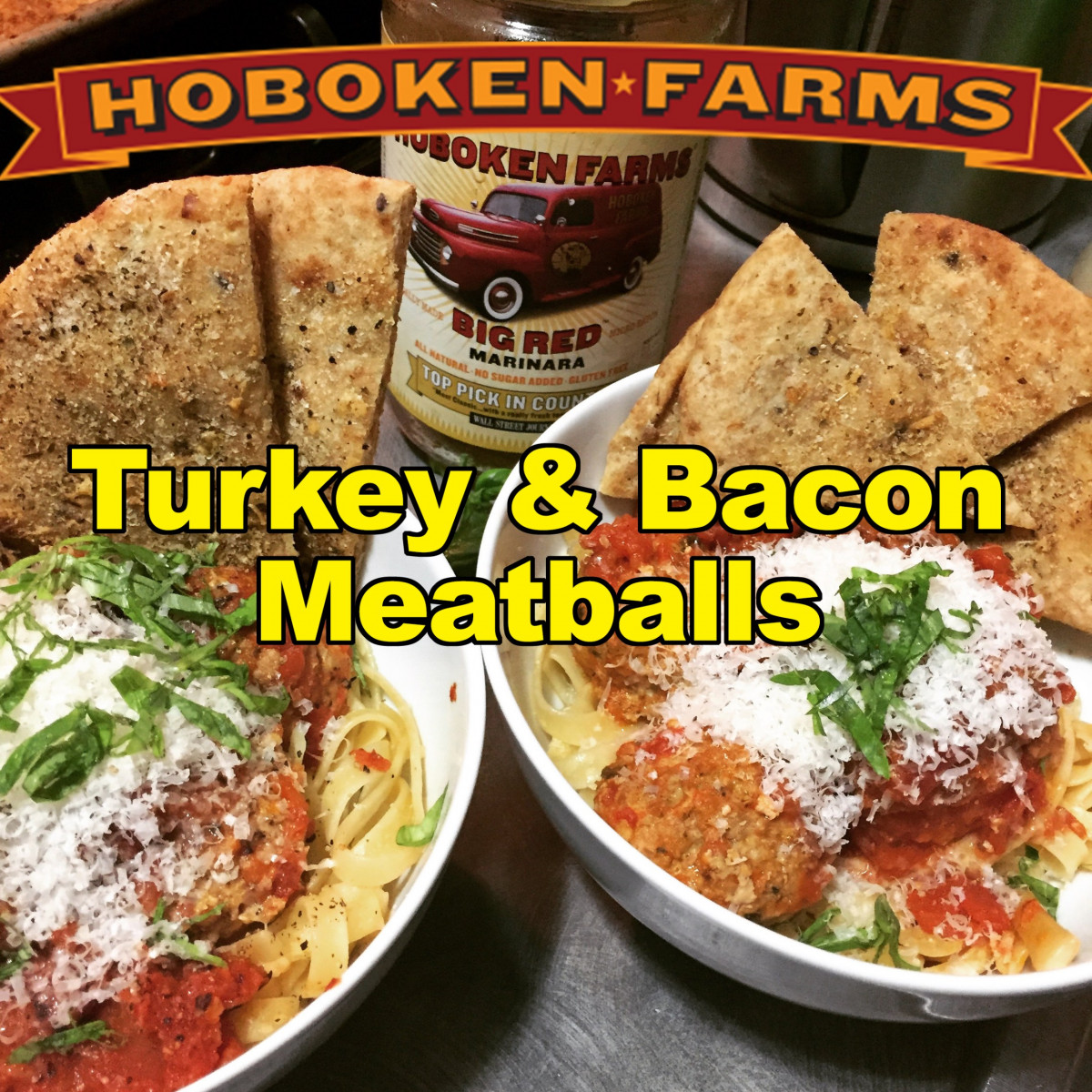 Ingredients:
Make 24 meatballs (about 4-6 servings)
2 slices of Ezekiel bread or any whole wheat bread
½ Cup Whole Milk
1 egg
½ pound thick-cut Apple wood smoked bacon
1 medium yellow onion, peeled and diced
2 medium cloves garlic, peeled and minced
1 ½ pounds ground turkey
¼ cup fresh Parsley, minced
2 teaspoons kosher salt
½ teaspoon ground black pepper
½ cup Parmesan cheese
1 Jar Hoboken Farms BIG RED Marinara sauce
1 cup chicken stock
Grated Parmesan cheese and fresh basil for garnish (optional)
Instructions:
Preheat oven to 400 degrees and line a baking sheet with parchment paper.
Place 1 jar of Hoboken Farms BIG RED Marinara sauce and 1 cup chicken stock in a saucepan and bring to a simmer.
Place bread in a bowl and pour milk over it. Soak until mushy. Add egg and mix together. Set aside.
In a food processor, combine bacon, onion, and garlic. Process until bacon and onion turn into a paste.
In a large bowl, combine bacon mixture, ground turkey, salt, black pepper, parsley, parmesan cheese, and bread mixture. Use your hands to mix thoroughly until evenly distributed.
I like to use a 1.5"-2" ice cream scoop to form the mixture into 24 meatballs and arrange on the baking sheet. Bake about 25 minutes, or until cooked through and golden brown.
Transfer meatballs to the saucepan with the sauce and continue to simmer on low for 15 minutes. Serve meatballs with the sauce with pasta. Top with freshly grated Parmesan and fresh basil. Store leftovers in remaining sauce.
Originally posted 2019-03-12 14:02:05.