22. Marinara Chicken Meatballs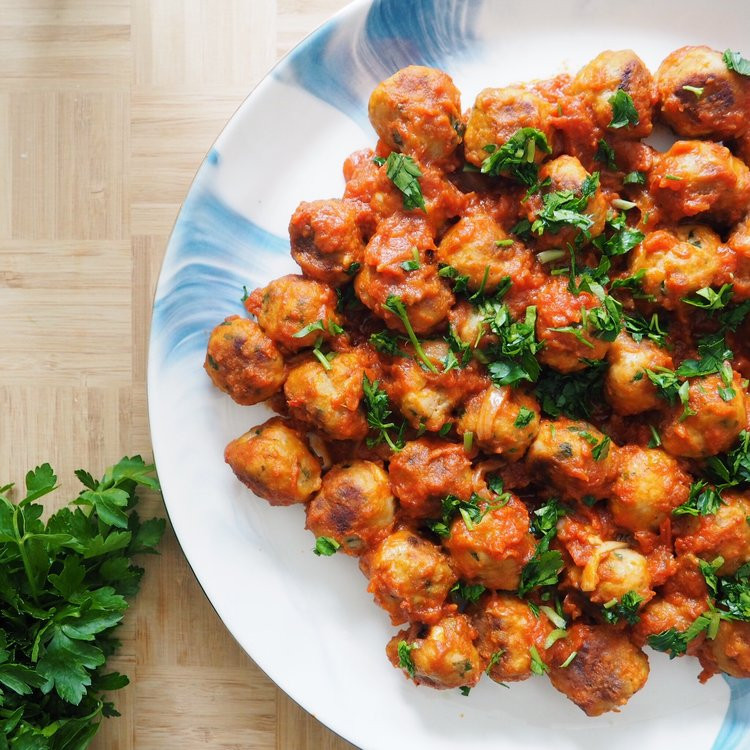 Ingredients:
Meatballs:
1 lb of ground chicken
1 handful of chopped Italian parsley
4 garlic cloves, minced
½ cup of Italian breadcrumps
½ tsp. of salt
¾ tsp of oregano
½ tsp of onion powder
¼ tsp of garlic powder
1/8 tsp of black pepper
1 tbsp of olive oil
For rolling: ¼ of all purpose flour
Sauce:
4 cups of marinara sauce
2 tbsp of olive oil
1 handful of chopped parsley
Instructions:
In a large mixing bowl, add all your meatball ingredients EXCEPT for the flour. Flour will be used separately to coat each ball prior to cooking. Mix meatball ingredients until well combined. On a separate plate, sprinkle flour onto plate. Then scoop out ½ tablespoon of the meatball mixture and roll it in the palm of your floured hands until round. Roll the meatball into the flour of the plate. Repeat process.
Then in a large non-stick pan on medium-high heat, add the remaining 2 tbsp. of olive oil. Once hot, slide in the meatballs. Try not to slide in the flour if possible. Cook on each side until browned, approximately 7-8 minutes in total.
Remove meatballs from pan and set aside. To the same pan, add marinara sauce and scrape the brown bits from bottom of pan. Bring to boil, add in the other handful of chopped parsley. Then slide in the cooked meatballs. Lightly stir until each ball is well coated in sauce for another 5-6 minutes.
Optional: garnish with more chopped parsley if desired. Serve immediately and enjoy!
Originally posted 2019-03-12 14:02:05.