4. Vegan Lemon Mousse (Gluten Free)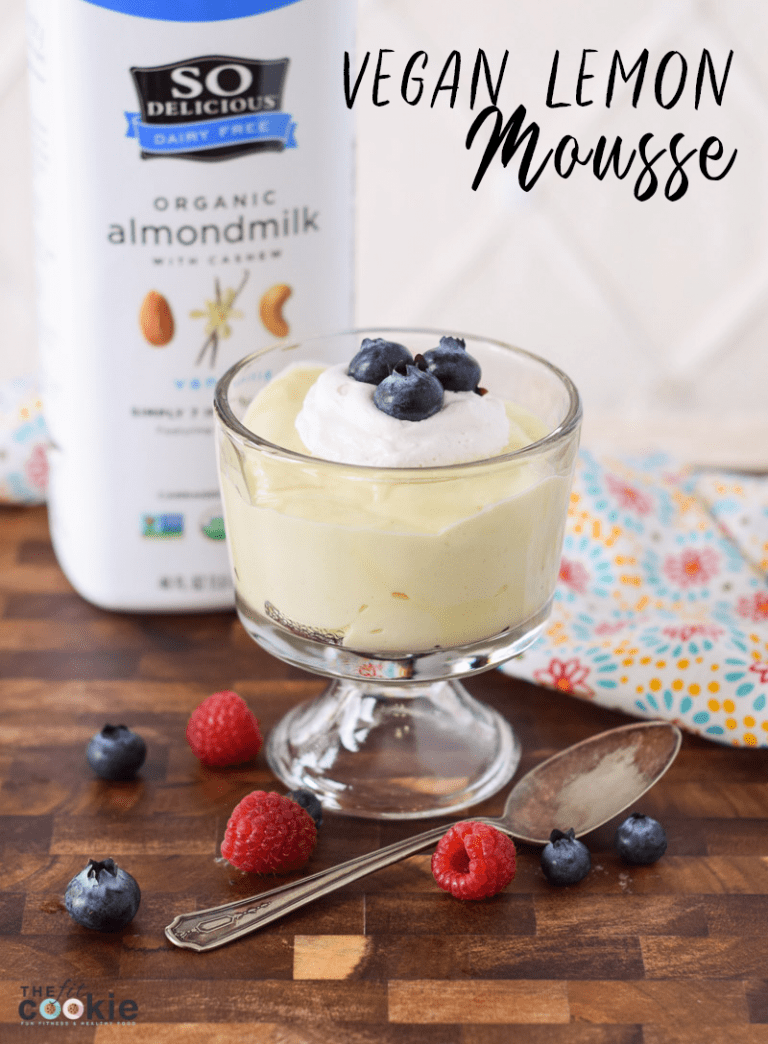 Ingredients:
1

cup

So Delicious Culinary Coconut Milk

(make sure to shake it well before measuring)

1

cup

So Delicious Vanilla Organic Almondmilk with Cashew Vanilla

2

Tablespoons

unbleached cane sugar

(optional, you can use Stevia if you want instead)

3-4

Tablespoons

fresh lemon juice, depending on how tart you want your mousse

1

pinch

natural yellow food color powder

1

dash

salt

3

Tablespoons

cornstarch

1

teaspoon

vanilla extract

4.5

ounces

So Delicious CocoWhip coconut whipped cream

(1/2 a 9 ounce container)

zest of 2 lemons**

see note
Instructions:
In a small saucepan, combine the coconut milk, almondmilk, sugar, lemon juice, natural yellow color powder, and salt and whisk until combined.

Start out sparingly with the food color powder, and add more as you like. You can always add more, but you can't take it out once it's there.

Heat the milk over medium low heat, stirring often, until it begins to simmer. Scoop out about 1/2 cup hot milk into a small bowl and whisk the corn starch into the small bowl.

Pour the corn starch-milk mix into the saucepan, whisking constantly. The milk mixture should thicken immediately (you've made lemon pudding!). Continue to stir with a whisk or spoon until it is mixed well and there are no lumps.

Remove from the heat, stir in the vanilla extract, and cool for about 15 minutes, then scoop the lemon pudding into a large bowl. Cover it with plastic wrap and lay the wrap directly on the surface of the pudding (this prevents the thickened "pudding skin" on top that can create lumps when you mix it again).

Place in the fridge and cool for about 30-45 minutes. It doesn't have to cool completely, we just need it to cool enough to mix with the CocoWhip.

Once the lemon pudding has cooled a bit, uncover it and fold in the So Delicious CocoWhip with a spatula until well mixed.

Divide the lemon mousse into 4-6 ramekins, cover, and chill for several hours or overnight.

Top with more CocoWhip and berries if you like. Enjoy!
Notes
**If you don't want bits of lemon zest in your mousse, add the fresh lemon zest to a tea ball strainer and set it into the pan as the almond and coconut milk cooks. Swish it around a bit to get those good lemon flavors in your milk, then remove it before adding the cornstarch to the pan.
Nutrition
Calories:
167
kcal
|
Carbohydrates:
15
g
|
Fat:
11
g
|
Saturated Fat:
8
g
|
Sodium:
31
mg
|
Potassium:
67
mg
|
Fiber:
2
g
|
Sugar:
9
g
|
Vitamin C:
3.5
{e60ce88da641899e69f391bf16a42888542d229f3489f13ac1244d498781d7ad}