23. Lemon Snowball Cookie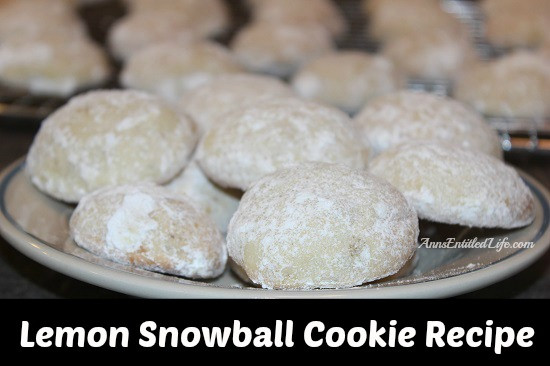 Ingredients:
1/2 cup Crisco
2/3 cup Sugar
Grated Lemon Grind of 1 Lemon
1 Egg
3 TBSP Lemon Juice
1 TSBP Water
1 3/4 cups All-Purpose Flour, sifted
1/4 tsp Baking Soda
1/4 tsp Cream of Tartar
1/2 cup Walnuts, finely chopped
Confectionery Sugar
Instructions:
Sift together flour, baking soda and cream of tartar. Set aside.
Using a mixer, cream together Crisco and sugar until light and fluffy.
Add lemon rind and egg, beat well.
Stir in water and lemon juice.
Add sifted flour mixture, blend well.
Stir in nuts by hand.
Refrigerate dough 1-2 hours.
Preheat oven to 350°.
Dust your hands with flour, and roll a small ball of dough between them (approximately 1″ ball.)
Place 1 inch apart on an ungreased cookie sheet.
Bake at 350° for 10-12 minutes until bottoms are slightly brown.
Immediately remove cookies from the cookie sheet, and roll them in confectionery sugar.
Makes 3 dozen Lemon Snowball Cookies
Originally posted 2019-03-12 14:02:07.