3. Lemon Cookie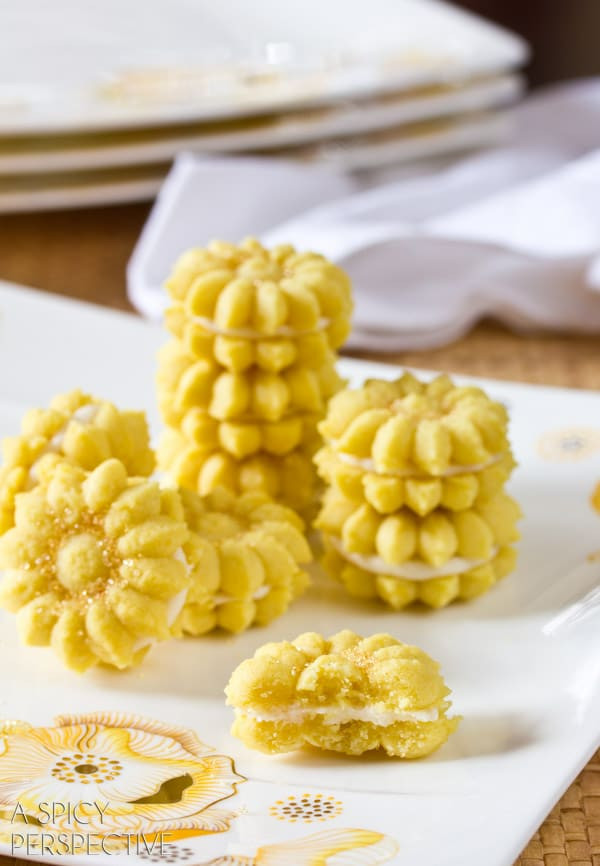 Ingredients:
For the Lemon Cookies Dough
3/4 cup unsalted butter, softened (1 1/2 sticks)
1/3 cup granulated sugar
1/4 teaspoon salt
1 large egg
1/2 teaspoon vanilla extract
2 tablespoons lemon curd
zest of 1 lemon
2 cup all-purpose flour
2-3 drops yellow food coloring *optional
yellow decorating sugar *optional
For the Lemon Frosting
4 ounces cream cheese
1 cup powdered sugar
3 tablespoons lemon curd
Instructions:
Preheat the oven to 400 degrees F. Using anelectric mixer, cream the butter and sugar together until light and fluffy, 3-5 minutes. Then beat in the salt, egg, vanilla, lemon curd, lemon zest and food coloring. Scrape the bowl and beat again to combine. Slowly add the flour until just combined.
Scoop the dough into a cookie press. Press the cookies onto ungreased baking sheets (no parchment paper.) Bake for 8-10 minutes. If using decorating sugar, sprinkle it on the cookies immediately as they come out of the oven. Cool for 2-3 minutes on the cookie sheets before moving.
Using a clean bowl, beat the cream cheese, powdered sugar and lemon curd together for the frosting. Place it in a piping bag (or use a zip bag and snip off the corner.)
Then flip half the cookies over and pipe a dollop of frosting on the bottoms. Top each frosting dollop with a second cookie and press gently. Store the cookies in an airtight container until ready to serve. Makes 60 cookies, 30 sandwich cookies.
Originally posted 2019-03-12 14:02:07.