5. Vegan Lemon Pie With Ginger Cookie Crust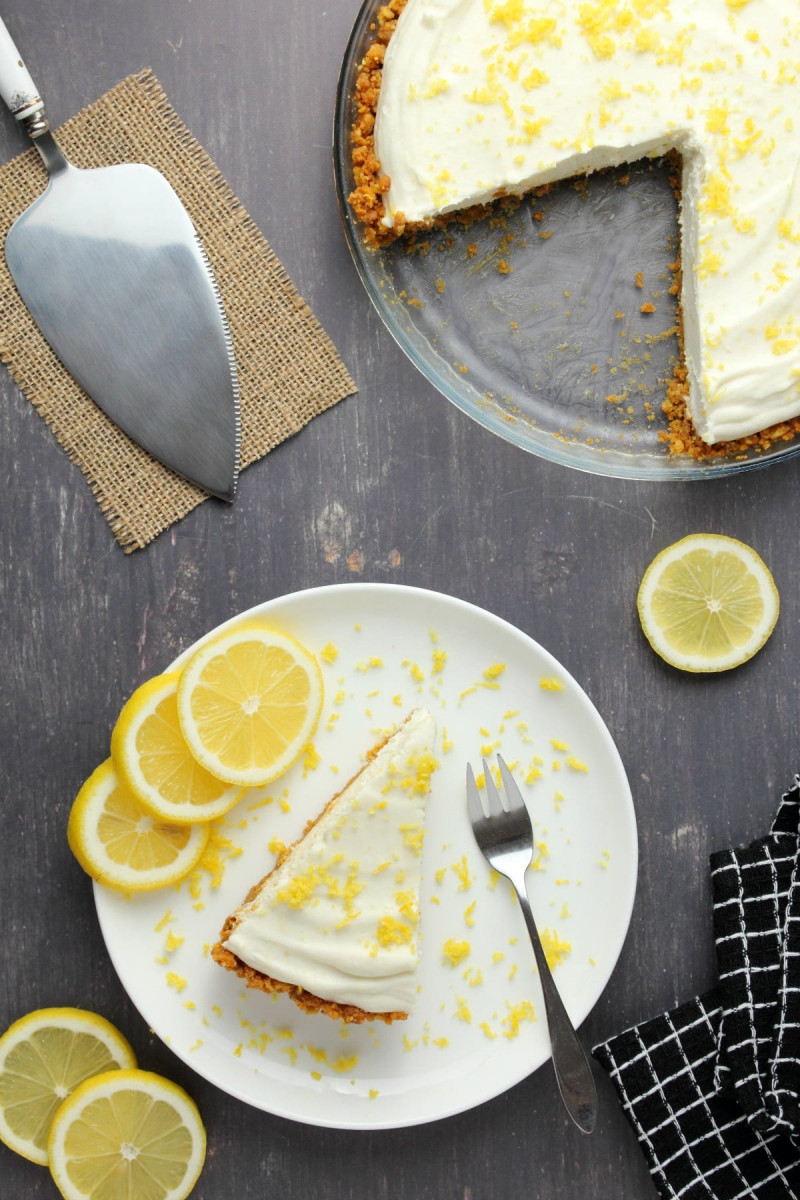 Ingredients:
For the Crushed Cookie Base:
9oz (255g) Vegan Ginger Cookies (store-bought or homemade)*
1/2 cup (112g) Vegan Butter (Melted)*
For the Lemon Pie Filling:
1 and 1/2 cups (360ml) Homemade Vegan Condensed Milk*
1/2 cup (120ml) Lemon Juice (freshly squeezed)
2 Tbsp Lemon Zest
1/2 tsp Lemon Extract
Double Batch Vegan Whipped Coconut Cream
For Decorating:
For Vegan Condensed Milk:
1 and 1/4 cups (150g) Soy Milk Powder
3/4 cup (150g) Sugar
1/2 cup (120ml) Hot Water
2 Tbsp (30g) Coconut Oil
1/4 tsp Salt
For Vegan Whipped Coconut Cream:
1 14oz (400ml) can Coconut Cream
3 Tbsp Powdered Sugar (optional)
1 tsp Vanilla Extract (optional)
Instructions:
Prepare the crushed cookie base by crushing the ginger cookies in the food processor or by placing into a ziplock bag and rolling over it with a rolling pin until the cookies are crushed into small pieces.
Melt the vegan butter on the stove and then pour it over the crushed cookie pieces and mix in.
Pat down into a pie dish, working it up along the sides as best you can and then place into the freezer to set.
Prepare vegan condensed milk: 1) Add the soy milk powder and sugar to your blender and blend them dry to mix them together well. 2) Pour hot water from the kettle into a measuring jug up to the 1/2 cup (120ml) line and to the hot water add the coconut oil and salt and add to the blender. 3) Blend for a minute or so until well mixed and smooth. 4) Pour out immediately into a container or bowl. 5) The condensed milk will thicken as it cools.
Pour this out into a bowl and set aside.
Prepare your whipped coconut cream. 1) Place the can of coconut cream into the coldest part of your refrigerator and leave it there overnight. 2) The next day, take it out and carefully open it (don't shake it around!). You'll see that the cream part has separated from the water and risen to the top. 3) Scoop that out into the bowl of an electric mixer, leaving the water behind. You can use the water in a smoothie or throw it out. 4) Starting at slow speed gradually increase speed until you achieve a whipped cream consistency. 5) The harder the consistency of the cream when you scoop it out, the quicker this will be. 6) Once you have whipped cream consistency, you can stop right there. You're done! OR: 7) Add some powdered sugar and vanilla for a sweetened cream. 8) Whisk again until mixed in.
Squeeze the lemons and grate the lemon zest.
Add the lemon juice, lemon extract and lemon zest to the bowl with the condensed milk and whisk with a hand whisk to combine. Then fold in the whipped coconut cream.
Pour this over the crushed cookie base and place into the fridge for a few hours to set. If it's still a little on the soft side, let it firm up in the freezer for a bit before serving.
Decorate with lemon zest and serve.
Notes
Vegan condensed milk :

Soy milk powder can be replaced with rice milk powder for identical results.
I tried it with coconut milk powder and the consistency is much thinner. However, it still works perfectly as a 1-1 replacement in recipes that are going to be baked/cooked such as fudge for example. But if you're using it in a no-bake recipe then I wouldn't use coconut milk powder for this.
Different brands of soy milk powder/rice milk powder etc have different densities. I found this out first hand when trying a new brand of soy milk powder that made this condensed milk extremely thick. If yours turns out super thick and isn't an easily pourable consistency when in the blender, then add a little more hot water. It should be easily pourable when in the blender and firm up in the fridge to the usual condensed milk consistency.
Whipped Coconut Cream
The best results come about in this recipe when the cream is very firm to start off with. If your cream is floppier when you start, you'll have to whip it for longer, and even then, it might not reach your desired firmness. If you need a 'fix' for a batch that won't firm up enough, you can add 1/4 tsp of xanthum gum, just be careful because this can sometimes firm it up more than you want it to! But this works as a fix.
I've done it with a hand whisk and it is possible, but generally only in cases where the cream is quite firm and hard to start with. Even then it uses a lot of arm power.
The filling for this pie is gluten-free, so if you wanted to make the whole pie gluten-free, just use a gluten-free cookie for the crust
Prep time does not include time spent setting in the fridge and freezer.
The amount of vegan butter you need for the base does depend on the kind of cookie you use. If you use a very dry snappy cookie (like most store-bought ginger cookies) then you'll likely need a half cup (112g) of vegan butter, but if you use a different kind of cookie that isn't as dry or a homemade ginger cookie, you can likely get away with using only a third cup (75g) of vegan butter.
If you're using store-bought vegan ginger cookies, this would be around 30 small cookies.
Originally posted 2019-03-12 14:02:07.