15. Triple Berry Lemon Cookie Cups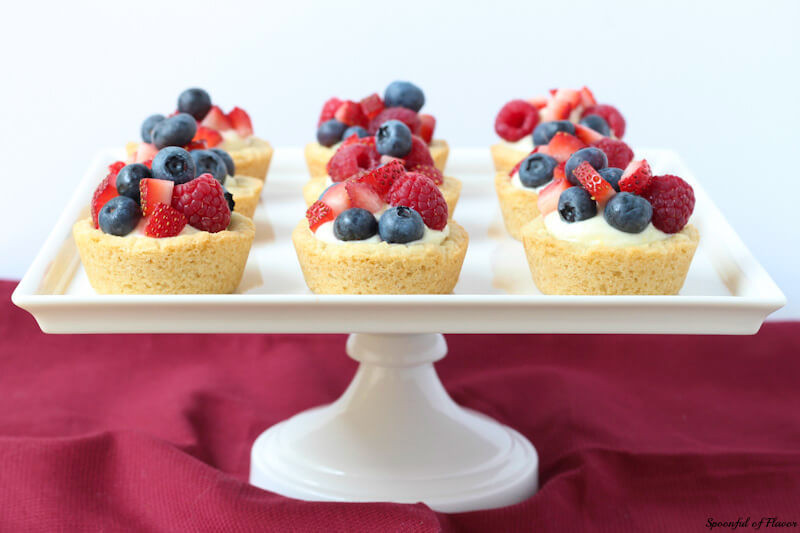 Ingredients
For the cookie cups:
1 1/2 cups all-purpose flour
1/4 teaspoon salt
1/2 teaspoon baking soda
1/2 cup (1 stick) unsalted butter, softened
3/4 cup sugar
1 egg
1 teaspoon vanilla
1 teaspoon lemon zest
For the lemon filling:
1 (8 oz) package cream cheese
1/2 cup sugar
2 teaspoons lemon zest
1 tablespoon fresh lemon juice
1 1/2 cups mixed berries
Instructions
To make the cookie cups, preheat oven to 350 degrees. Spray 12 standard size muffin cups with nonstick cooking spray. In a medium bowl, combine flour, salt and baking soda; set aside.
In the bowl of an electric mixer fitted with the paddle attachment, cream together butter and sugar until light and fluffy, about 3 to 5 minutes. Add egg, vanilla and lemon zest; mix until combined. Slowly add the dry ingredients to the wet ingredients, mixing on low speed until incorporated.
Using a 1 1/2 inch cookie scoop, scoop dough into muffin tin, dividing the dough evenly among cups. Press cookie dough into bottom of cup and press about 1/2 way up the sides of each cup, forming a cup shape. Bake for 10 to 12 minutes, or until edges are golden.
Remove from oven. Using the back of an ice cream scoop or tablespoon, press down on the center of each cookie to form a cup. Allow to cool completely.
To make lemon filling, in a bowl of an electric mixer fitted with the paddle attachment, beat cream cheese at medium speed until smooth. Add sugar, lemon zest and lemon juice and beat until smooth, about 2 to 3 minutes. Using a pastry bag or spoon, fill cookie cups with filling. Top with mixed berries. Serve immediately
Originally posted 2019-03-12 14:02:07.