12. No Bake Lemon Pistachio Shortbread Cookie Bites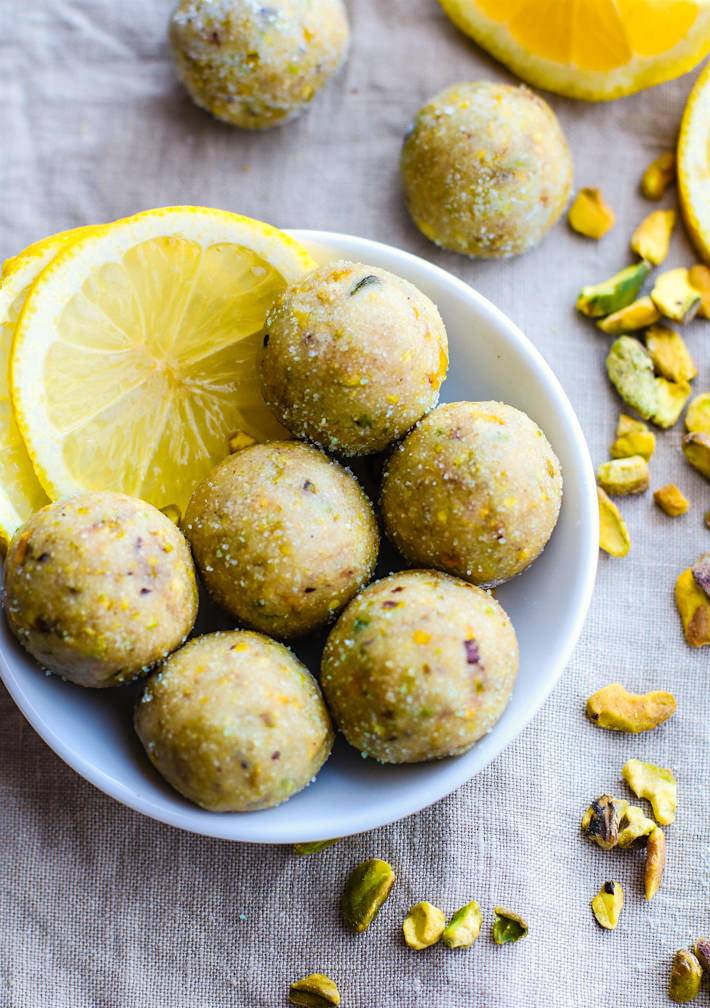 Ingredients:
1 cup pistachio (meats, shelled)
1 tsp grated lemon
1 cup coconut flour (sifted or very fine works best. Not clumpy)
1 tbsp coconut sugar (optional for thicker texture and for coating)
1/2 cup no stir almond butter or sunflower seed butter
1/2 cup honey or maple syrup
1/2 to 1 tsp lemon extract
1/2 tsp vanilla extract
dash of cinnamon
Instructions:
First grind up your pistachios in a food processor or blender. Be sure not to blend into a flour, just a mealy like texture. Similar to almond meal. See picture above for what the grind will look like.
Next, grate your lemon to form a bit of lemon zest.
In large bowl, add in all your dry ingredients (flour, nuts). If you'd like a more dense texture, add in 1 tbsp of coconut sugar with your dry ingredient.
Then mix in your nut butter, and last the lemon zest, honey or maple syrup, and extracts. Depending on how thin your almond butter is and how fine your coconut flour is, you might have to add more honey and/or almond butter.
Mix well (I use my hands) and roll into bite size balls.
Place in freezer to harden.
Once the bites have harden, coat the bites with extra lemon zest and a coconut sugar if desired. Or feel free to coat in a little bit of vanilla protein (omit protein if paleo)
Freeze or keep in refrigerator to maintain freshness.
Notes
Depending on how thin your almond butter is and how fine your coconut flour is, you might have to add more honey and/or almond butter. Which is why i gave a range of measurements there.
Serving size: 1 Calories: 77 Fat: 4.5 Carbohydrates: 7.5 Sugar: 3.5 Fiber: 3 Protein: 2.4