19. Lemon Cream Fruit Tart with a Shortbread Cookie Crust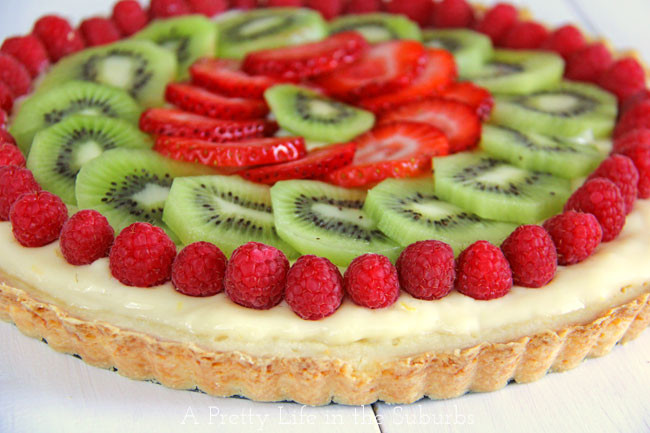 Ingredients:
The Shortbread Cookie Crust:
2 cups flour
1/4 cup white sugar
1 cup butter (cut into chunks)
pinch salt
Lemon Pastry Cream:
1/3 cup sugar
3 tbsp cornstarch
4 egg yolks
11/3 cups whole milk
1/4 cup sugar
1/3 cup fresh lemon juice
zest from 1 lemon
1/2 tsp vanilla
Fruit topping:
Sliced fruit such as strawberries (kiwis, peaches, nectarines)
Other fruit such as raspberries (blueberries)
Instructions
Preheat your oven to 400 degrees.
The Shortbread Cookie Crust:
In your food processor, process the flour, sugar, butter and salt until the mixture looks like coarse crumbs.
Press the crumbly mixture into a 10 inch tart pan (making the sides slightly higher than the centre…do this by pressing the mixture up towards the edge).  Then bake the crust for about 15-18 minutes. Watch it carefully to make sure the crust doesn't burn – the edges should look light golden brown.
After it has baked, remove the cookie crust from tart pan and set it aside to cool
Lemon Pastry Cream:
In your food processor (use the small mixing bowl), mix the egg yolks, 1/3 cup sugar and corn starch until smooth.
In a sauce pan, on medium-high heat, whisk together the milk, 1/4 cup sugar, lemon zest and fresh lemon juice. It may curdle, but don't worry it will all come together.
Slowly add the egg mixture to the milk mixture in the saucepan, whisking constantly.
As you are whisking, bring the mixture to a boil, then reduce the heat. Continue to whisk until thick (not too thick, as the mixture will thicken as it cools – I remove it from the heat when it resembles pudding).
Add the vanilla, and stir.
Remove from heat, and cool completely. You may want to press a piece of saran wrap or wax paper to the top of the lemon cream to prevent a crust/film from forming.
Set aside.
Putting your tart together:
Using your food processor, slice your fruit.
Once the tart crust and the lemon filling have cooled completely you can put together your tart!
If needed, you can use a hand blender to make your lemon cream more creamy in consistency.
Spread the lemon cream filling on to the crust, to about a 1/4 inch from the edge.
Add your fruit.
Serve immediately, or chill before serving (see notes).
Enjoy!
Notes
If you are not going to serve this tart immediately, you can add a glaze to the top of your tart. Just melt about 3 tbsp of jelly (like apricot), and brush the fruit lightly with the jelly.
Originally posted 2019-03-12 14:02:07.