25. Lemon-Parsley Bean Salad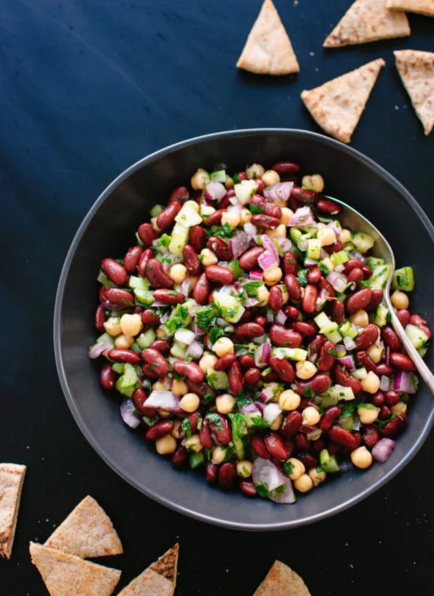 Ingredients:
2 cans (15 ounces each) red kidney beans, rinsed and drained, or 3 cups cooked kidney beans
1 can (15 ounces) chickpeas, rinsed and drained, or 1 ½ cups cooked chickpeas
1 small red onion, diced
2 stalks celery, sliced in half or thirds lengthwise and chopped
1 medium cucumber, peeled, seeded and diced
¾ cup chopped fresh parsley
2 tablespoons chopped fresh dill or mint
¼ cup olive oil
¼ cup lemon juice (about 1 ½ lemons)
3 cloves garlic, pressed or minced
¾ teaspoon salt
Small pinch red pepper flakes
Instructions:
In a serving bowl, combine the prepared kidney beans, chickpeas, onion, celery, cucumber, parsley and dill (or mint).
Make the lemon dressing: In a small bowl, whisk together the olive oil, lemon juice, garlic, salt and pepper flakes until emulsified. Pour dressing over the bean and vegetable mixture and toss thoroughly.
Serve immediately for the most flavor, or let it marinate in the refrigerator, covered, for a couple of hours or longer. Leftovers should keep well, covered and refrigerated, for several days. If necessary, wake up leftovers with a little sprinkle of salt or drizzle of lemon juice.
Originally posted 2019-03-12 14:02:07.