7. Vegan Lasagna Soup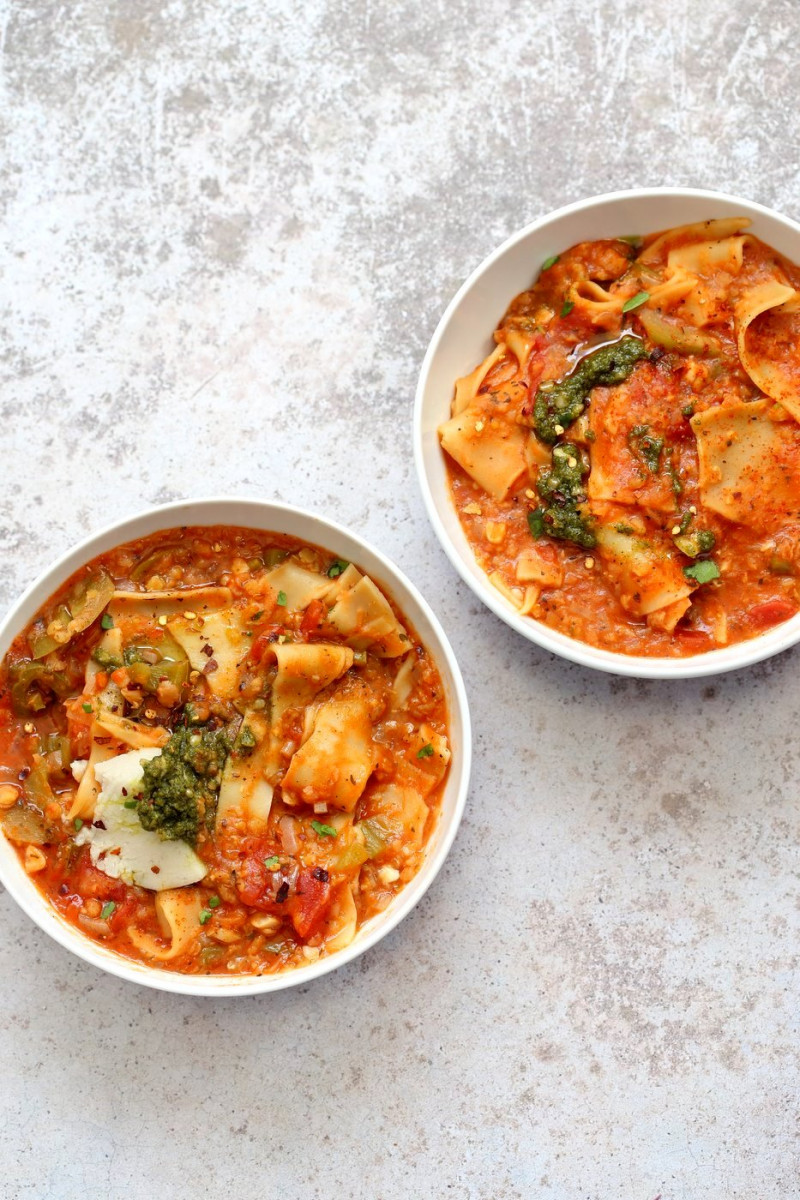 Ingredients:
1

tsp

oil

1/2

onion

chopped

4

cloves

of garlic

chopped

1

cup

veggies – combination of peppers

, carrots, zucchini

1/4

cup

red lentils

(uncooked) – quick cooking red lentils (split ones) also called masoor dal

1

cup

tomato puree

(or use any thick tomato sauce such as marinara, pasta sauce or passata)

1 to 1.5

cup

diced tomato

2

tsp

italian seasoning

(1 tsp basil and 1/2 tsp oregano, parsley, generous dash of thyme/sage and rosemary)

1/4

tsp

each onion powder

, garlic powder

1/2 to 3/4

tsp

salt

(depends on if there is salt in the tomatoes or other seasoning, I use 3/4 tsp with)

2

cups

water or veggie broth

(2.5 to 3 cups for soupier or if using whole grain noodles or with more veggies)

5

oz

lasagna sheets

, broken into small pieces, or use pasta of choice (I use no boil as they work out the best)

dash of black and white pepper

pepper flakes to taste

, i use about 1/3 tsp

1

tbsp

nutritional yeast

1

cup

packed spinach

, optional

vegan pesto, vegan ricotta or mozzarella, vegan butter/ garlic bread to serve

optional

a tbsp tomato paste, lemon, fennel seeds (optional add ins)
Instructions:
Heat oil in Instant pot on saute mode. When hot, add onion, garlic and a pinch of salt. Cook for 2 mins, stirring occasionally. (See Recipe notes for Saucepan instructions )
Add veggies and mix in. Add red lentils, tomato, salt, seasoning, onion powder, garlic powder and mix in. Add a tbsp of tomato paste for additional tomato flavor (optional). Add lasagna sheets and water and mix in. (make sure to use small pieces and mix them in well else they tend to stick)
Close the lid and Pressure cook on manual hi for 3 mins **. Let the pressure release for 10 minutes, then if there is still pressure in the pot, manually release carefully and open.
Mix in the black pepper, pepper flakes and nutritional yeast. Taste and adjust salt and flavor(italian herbs, onion/garlic powder). Add some more salt, broth, tang(lemon) if needed to balance.
Fold in the spinach if using. Let sit for a minute. Then serve with pesto/basil and/or vegan ricotta/mozzarella, and garlic bread. You definitely need some vegan cheese for a more lasagna like flavor. Fold in some into the soup while still hot and use more for garnish.
Notes
This time might need adjustment based on your lasagna sheets or pasta. Pressure cook for about half the time listed on the package. So 5 or 6 mins if it says 11 mins boil time on the package. I prefer to use no boil lasagna sheets as they give me evenly cooked results more often than regular.
Variations:
Add 1/4 tsp fennel seeds with the lentils for sausagey profile.
Add a 1/4 cup uncooked quinoa +1/2 cup more water to up the protein when you add lentils.
If using longer cook time brown/green lentils or beans, then use cooked. Add 3/4 cup cooked brown lentils/white beans/chickpeas/veggie crumbles.
Saucepan: Follow steps 1 and 2 over medium heat. Add 3 cups of water (dont add lasagna sheets). Partially cover and bring to a boil. Add lasagna sheets and cook for 10 to 12 minutes or until the pasta and lentils are cooked through. Proceed with the last 2 steps.
Glutenfree Pasta: People have made this with gf lasagna sheets and pasta and it works out fine. You might need to adjust the time based on the brand. Also use lighter veggies so that it doesnt weight the pasta (gf pasta is more likely to stick)
Nutrition is 1 of 3 serves. Does not include toppings.
Originally posted 2019-03-12 14:01:51.