18. Instant Pot Vegan Alfredo Sauce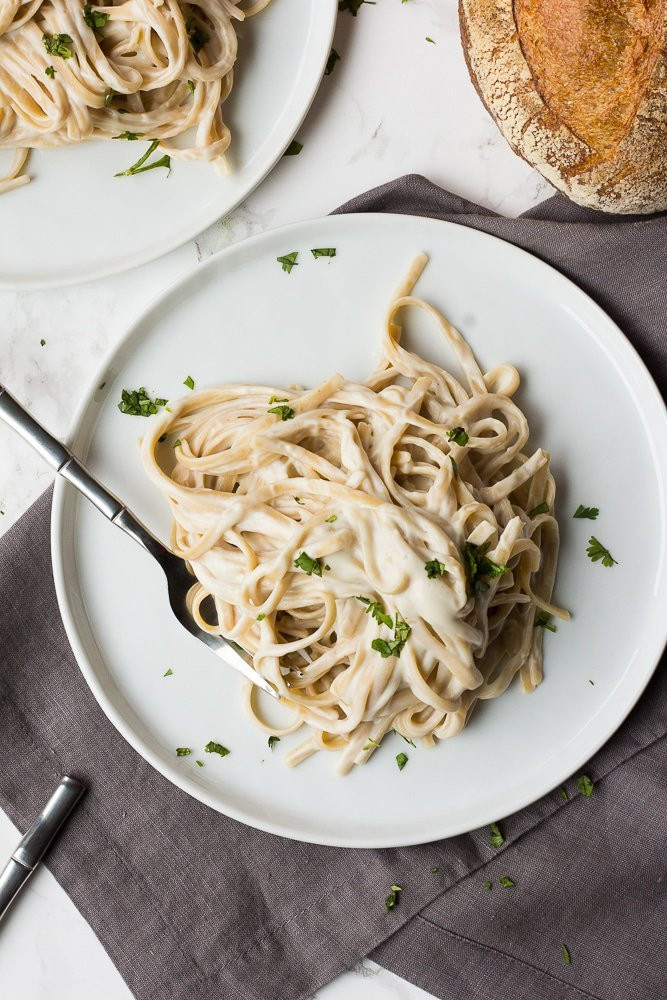 Ingredients:
2

tablespoons

olive oil

8

cloves garlic, minced

6

cups

cauliflower florets (fresh or frozen)

3/4

cup

raw cashews

3

cups

vegetable broth

1/2-1

teaspoon

salt, to taste

1

pound (16-oz)

cooked fettuccine pasta (whole grain or gluten free if needed)

Optional: steamed broccoli, kale or green peas
Instructions:
Instant Pot Instructions:
Push the saute feature on the Instant Pot. Add the olive oil and minced garlic and cook for a minute or two, until fragrant, but be careful not to burn.
Now turn off the saute, and add the cauliflower, cashews and vegetable broth. Cook in the Instant Pot on high manual pressure for 3 minutes, making sure it's sealed so the pressure can build.
Once it beeps and is done, carefully release the pressure. I always use a towel to protect from burning, so be careful. (If you have time, you can let the pressure come down naturally)
Transfer to a blender, add salt and blend until very smooth. Pour over pasta and stir. If the sauce is a bit thick, simply add in a few tablespoons of water, a little at a time, until the desired consistency is reached. Serve immediately with steamed broccoli, kale or peas if desired.
Regular (Non-Instant Pot) Instructions:
In a large pot, saute the garlic in the olive oil for a few minutes until fragrant. Add the cauliflower, cashews and vegetable broth. Bring to a boil and cook for 10-15 minutes. Transfer to a blender and blend until smooth. Return to the pot, add salt to taste and serve.
Recipe Notes
This sauce freezes well. I freeze sauces like this in small glass or BPA free plastic containers. Leave an inch or so of room for expansion. Re-heat in the microwave, stove top or even your Instant Pot.
Use Gluten Free pasta if needed. This sauce is good on all sorts of pasta, and makes a great topping for baked potatoes as well.
You may leave out the cashews if necessary, such as if you have a nut allergy or don't want the fat. It will still be good but not quite as creamy and you will need to use less vegetable broth. You could also try replacing the cashews with white navy beans.
I love this sauce with pasta and steamed broccoli or cooked kale.
Nutritional information is only for the sauce. It will change depending on what kind of pasta and vegetables you use.
Originally posted 2019-03-12 14:01:51.