26. Vegan Instant Pot No Knead Hawaiian Rolls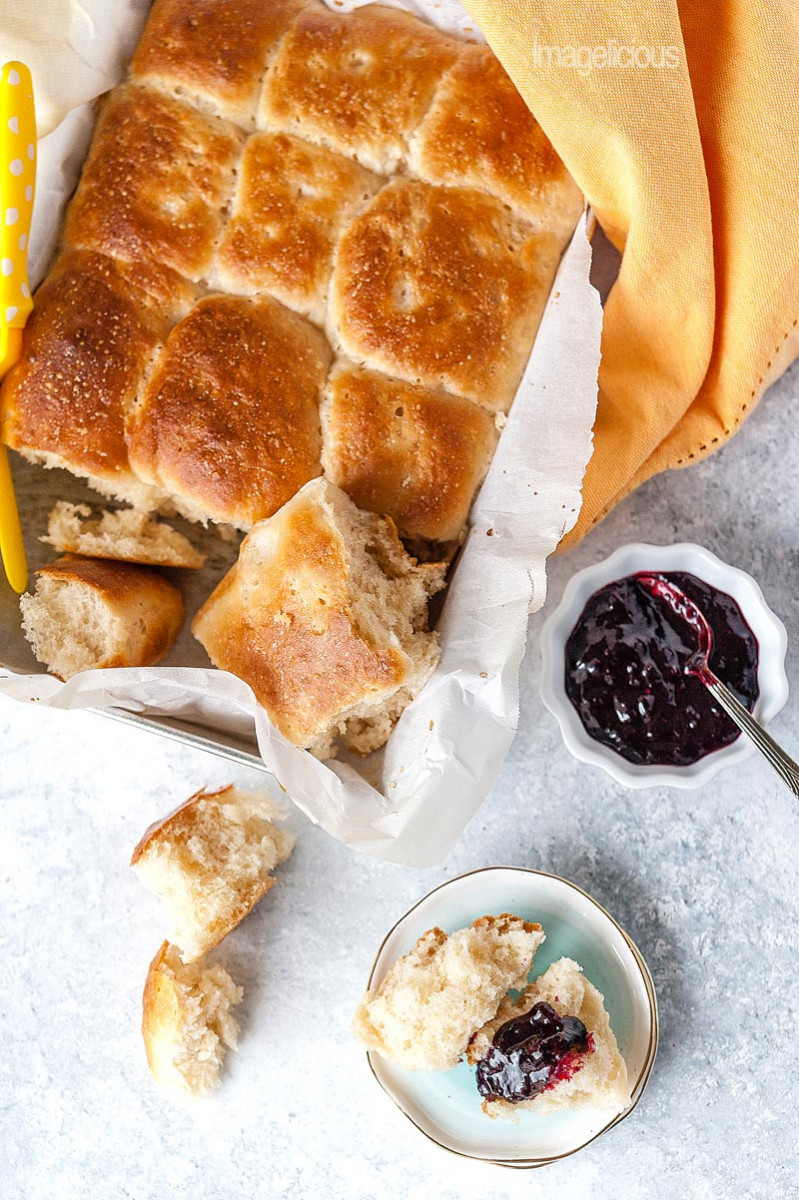 Ingredients:
1/8

cup

coconut oil

3/4

cup

pineapple juice

1/2

cup

coconut milk

1/4

teaspoon

coconut extract

(optional)

1

tablespoon

coconut sugar

1.5

teaspoon

instant yeast

2 1/4

cup

flour

(see note)

1/4

teaspoon

salt

1

tablespoon

coconut milk

(for brushing the rolls)
Instructions:
Make Instant Pot No Knead Dough
Turn the sauté function on your Instant Pot on. Add the coconut oil and just as the oil is halfway melted, turn the sauté function off.

Add the pineapple juice, coconut milk, coconut extract if using, coconut sugar, and mix.

Let the mixture cool to 105-110F (40-43C). It might take 5-10 minutes. Alternatively, run the metal Instant Pot insert under some cold water.

Important: if liquid is too hot when the yeast is added, it'll kill the yeast. If the liquid is too cool then the yeast won't work either.

Add the yeast and wait for about 5 minutes until it foams.

Add the flour and salt, mix with a wooden spoon or a sturdy spatula until all the flour is mixed into the liquid.

Close the lid on your Instant Pot, press the Yogurt function and change the timing for 1 hour.

After 1 hour, open the lid. The dough should be soft and doubled in size.
Form the Vegan Hawaiian Rolls
Divide the dough into 12 equal portions. If it's too sticky, wet your hands with water, it'll prevent the dough from sticking to your hands.

Form each portion into a roll. I like doing it by slightly flattening the portion and then tucking the edges underneath it. Sort of like wrapping the dough over something like a balloon.

Place each roll onto a baking sheet covered with parchment paper. Minimum 7×11 inches if you'd like the rolls to stick together or a bigger pan if you'd like individual Hawaiian Rolls.

Cover the pan with the rolls with a clean kitchen towel and let rise in warm place until the rolls are puffy and have risen even more. About 30 minutes.

While the rolls are rising, preheat the oven to F425.
Bake Vegan Instant Pot No Knead Hawaiian Rolls
Once the Vegan Hawaiian Rolls have risen, brush them with some coconut milk on top.

Bake in the fully preheated oven for about 25 minutes or until they are beautifully golden and baked through.
Notes
Please read my comments about the amount of flour to use above the recipe card. You might need to use a bit more flour if you don't like the dough to be sticky. The amount of flour listed will make a very sticky dough!
Feel free to add 1-2 extra tablespoons of coconut sugar for sweeter Vegan Hawaiian Rolls. If you don't have coconut sugar, you can use regular white or brown sugar.
Nutrition
Calories:
142
kcal
|
Carbohydrates:
21
g
|
Protein:
3
g
|
Fat:
4
g
|
Saturated Fat:
4
g
|
Sodium:
53
mg
|
Potassium:
79
mg
|
Fiber:
1
g
|
Sugar:
2
g
|
Vitamin C:
1.9
{e60ce88da641899e69f391bf16a42888542d229f3489f13ac1244d498781d7ad}
|
Calcium:
0.7
{e60ce88da641899e69f391bf16a42888542d229f3489f13ac1244d498781d7ad}
|
Iron:
8.4
{e60ce88da641899e69f391bf16a42888542d229f3489f13ac1244d498781d7ad}