20. Vanilla Almond Spritz Cookies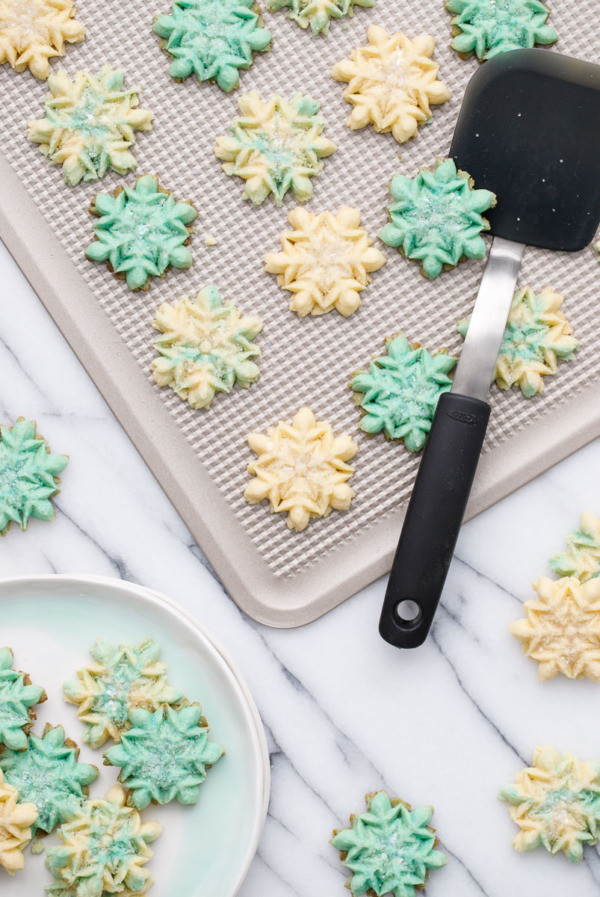 Ingredients:
1/2 cup (1 stick) unsalted butter, at room temperature
1/2 cup granulated sugar
2 egg yolks
3/4 teaspoon almond extract
1/2 teaspoon vanilla extract
1 3/4 cups (8 ounces) all-purpose flour
1 tablespoon cornstarch
1/4 teaspoon kosher salt
food coloring (optional)
sanding sugar, for sprinkling (optional)
Instructions:
Preheat oven to 375 degrees F. Place a nonstick baking sheet in the freezer for at least 10 minutes before baking.
In a large mixing bowl or the bowl of a stand mixer, cream butter and sugar until light and fluffy, 3 to 5 minutes. Add egg yolks and extracts and beat on medium-high speed for another 2 to 3 minutes until creamy, scraping down the sides of the bowl as needed.
Add flour, cornstarch, and salt and mix on low speed until dry ingredients are just incorporated. If coloring, divide dough in half and add food coloring and knead until color is evenly distributed.
Place desired design disk on end of cookie press. Fill tube with dough, then screw on lever top.
Remove cookie sheet from freezer. Place cookie press flat on cookie sheet surface, press lever, pause for one second to allow the dough to freeze to the sheet, then gently lift press. Repeat with remaining cookies, leaving 1 inch of space between cookies (they won't spread very much so you should be able to fit an entire tube of dough onto one cookie sheet). If desired, sprinkle cookies with sanding sugar.
Bake for 6 to 7 minutes or until tops are set and edges are just starting to brown. Remove from oven and let cool for 10 minutes, then transfer cookies to a wire rack to cool completely. Let cookie sheet cool, then freeze for 10 minutes before pressing out the next sheet of cookies.
Spritz cookies will keep in an airtight container for up to 1 week.
Originally posted 2019-03-12 14:01:47.