14. Chocolate-Dipped Spritz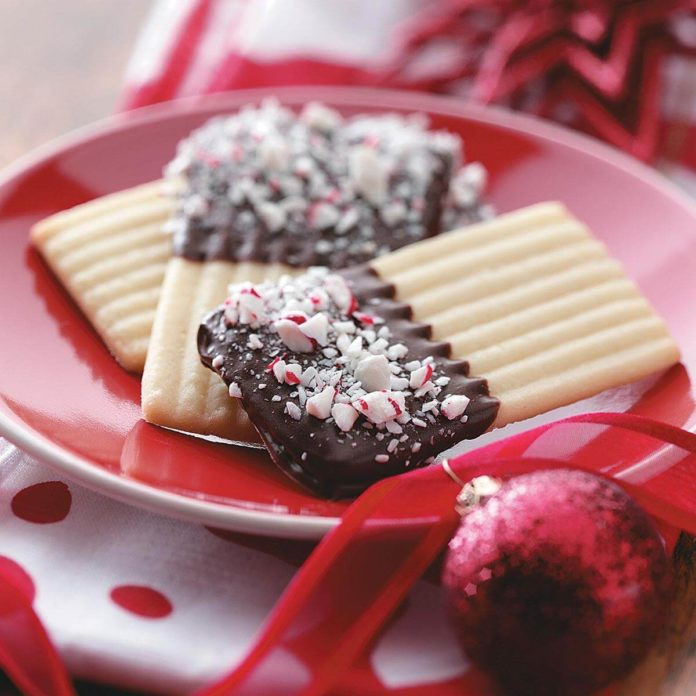 Ingredients:
1 cup butter, softened
3/4 cup sugar
1 egg
1 teaspoon vanilla extract
2-1/4 cups all-purpose flour
1/2 teaspoon salt
1/4 teaspoon baking powder
11 ounces dark, white or milk chocolate candy coating, coarsely chopped
Crushed peppermint candies
Instructions:
In a large bowl, cream butter and sugar until light and fluffy. Beat in egg and vanilla. Combine the flour, salt and baking powder; gradually add to creamed mixture.
Using a cookie press fitted with the disk of your choice, press dough 2 in. apart onto ungreased baking sheets. Bake at 375° for 7-9 minutes or until set (do not brown). Remove to wire racks to cool.
In a microwave-safe bowl, melt candy coating; dip each cookie halfway. Sprinkle with crushed candies. Place on waxed paper until set.
Notes
Confectionary coating is found in the baking section of most grocery stores. It is sometimes labeled "almond bark" or "candy coating" and is often sold in bulk packages of 1 to 1-1/2 pounds.
Originally posted 2019-03-12 14:01:47.