18. Buttery Spritz Cookies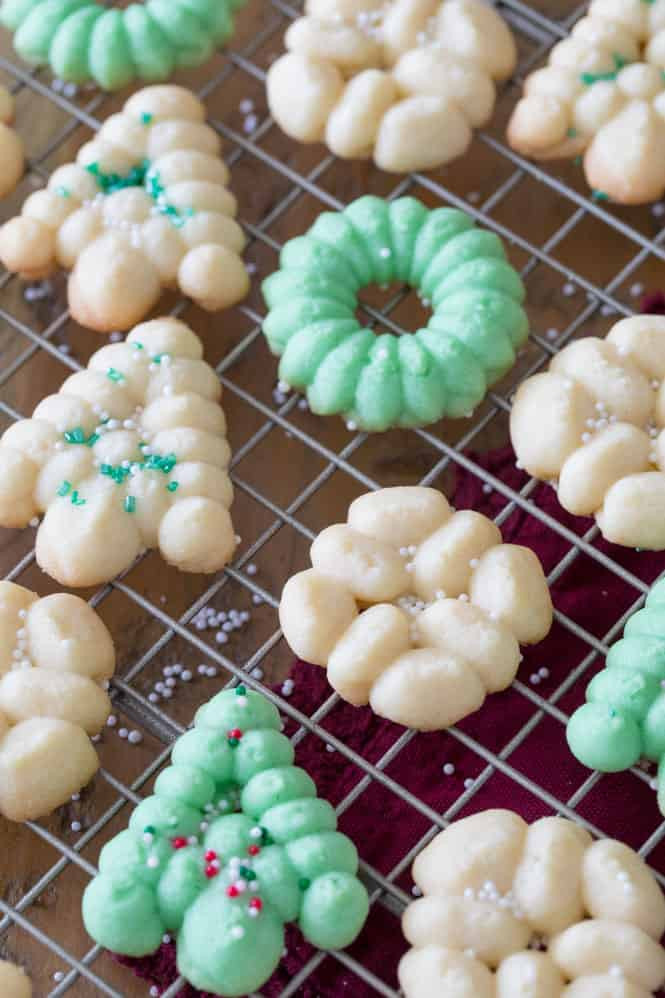 Ingredients:
1

cup

unsalted butter

softened to room temperature (226g)

¾

cup

sugar

150g

1 ½

teaspoons

vanilla extract

1

large egg yolk

1/2

teaspoon

salt

2 1/4

cups

all-purpose

plain flour (295)

You will need a cookie press for this recipe!
Instructions:
Preheat oven to 350°F (175°C).

Combine butter and sugar in a large bowl and use an electric mixer to beat until creamed.

Add vanilla extract and salt and stir until well-combined. Be sure to scrape down the sides of the bowl using a spatula to ensure ingredients are well-incorporated.

Add egg yolk and beat until combined

With mixer on medium-low speed, gradually add flour until completely combined (you will most likely need to scrape down the sides and the bottom of the bowl several times for this, as the mixture is fairly dry and crumbs tend to settle at the bottom of the bowl).

Break off about 1/2 cup of dough and use your hands to form it into a log.

Insert cookie dough log into the tube of your cookie press and fit with your preferred tip. Place cookie press directly on an ungreased cookie sheet and use press to squeeze out one cookie. Squeeze out cookies in rows, spacing at least 1″ apart.

Decorate with sprinkles, if desired, and transfer to 350°F (175°C) oven. Bake for 10-11 minutes or until edges are just beginning to turn a light golden brown.

Allow to cool for at least 5-10 minutes on baking sheet before using a spatula to gently scrape them off the cookie sheet and transfer to a wire cooling rack to cool completely.
Originally posted 2019-03-12 14:01:47.