1. Creamy Spinach Tomato Tortellini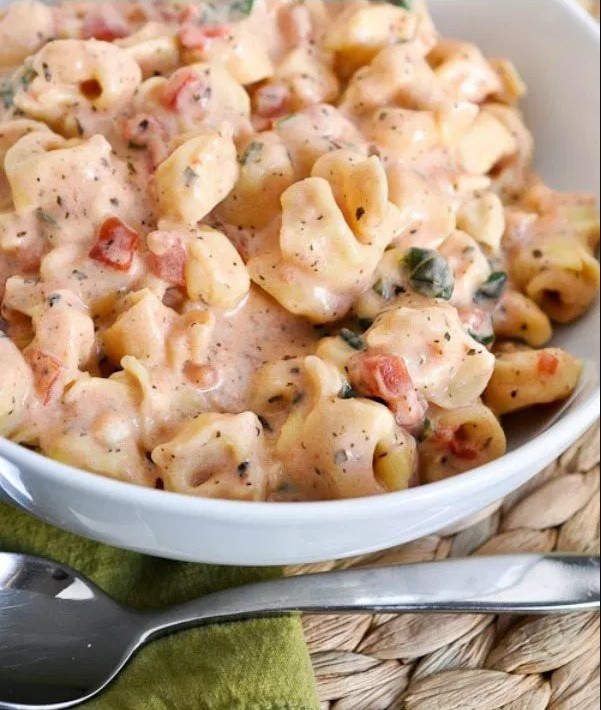 Ingredients
1 bag regular sized Barilla three cheese tortellini (8 oz) or 16 oz fresh tortellini in the refrigerated section of your grocery store
2 teaspoon minced garlic
1 cup chopped fresh spinach
1 (14.5 ounces) can petite diced tomatoes
½ teaspoon salt
¼ teaspoon pepper
1½ teaspoons dried basil
1 teaspoon onion flakes
2 tablespoons all-purpose flour
1½ cups half-and-half
¼ cup grated Parmesan cheese
Instructions
Begin by boiling your tortellini noodles until they are al dente (aka ready). Follow the directions on the bag for boiling time.
While the tortellini is boiling, chop the spinach roughly.
Heat a large skillet using medium heat and put the two teaspoons of minced garlic into it. Sautee it briefly until fragrant, about thirty seconds or so.
Add into the skillet the petite diced tomatoes (undrained), spinach, salt, pepper, dried basil, and onion flakes.
Cook and stir over medium-high heat until the mixture begins to bubble.
In another bowl, combine the flour and half-and-half. Whisk until fairly smooth.
Add the creamy mixture into the skillet along with the parmesan cheese.
Heat through and reduce the heat to medium-low and continue to stir and cook until it thickens, about 5 minutes.
Add the drained tortellini and mix together gently.
Serve and enjoy!
Originally posted 2019-01-03 23:02:07.