12. Red Velvet Spritz Cookies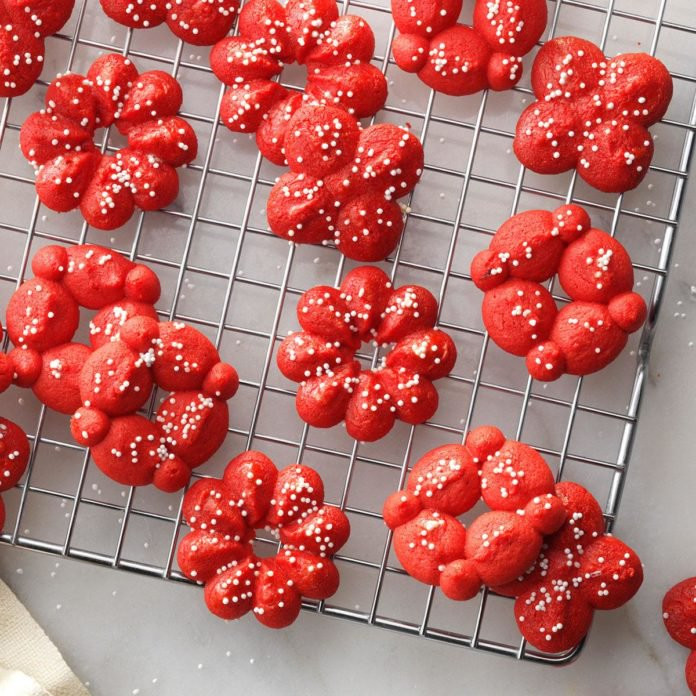 Ingredients:
1 cup butter, softened
3 ounces cream cheese, softened
1 cup sugar
1 large egg, separated
1 teaspoon vanilla extract
2 teaspoons red paste food coloring
1/2 teaspoon peppermint extract, optional
2-1/2 cups all-purpose flour
1 tablespoon baking cocoa
1 tablespoon water
Nonpareils or sprinkles
Instructions:
Preheat oven to 350°. Cream butter, cream cheese and sugar until light and fluffy. Beat in egg yolk, vanilla, food coloring and, if desired, extract. In another bowl, whisk flour and cocoa; gradually beat into creamed mixture.
Using a cookie press fitted with a disk of your choice, press dough 1 in. apart onto ungreased baking sheets. In a small bowl, mix egg white and water; brush over cookies. Decorate as desired with nonpareils or sprinkles. Bake until set, 10-12 minutes. Cool on pans 2 minutes. Remove from pans to wire racks to cool completely.
Freeze option: Transfer dough to a resealable plastic freezer bag; freeze. To use, thaw dough in refrigerator overnight or until soft enough to press. Prepare and bake cookies as directed.
Originally posted 2019-03-12 14:01:47.