8. Thanksgiving Vegetable Crescent Roll Ring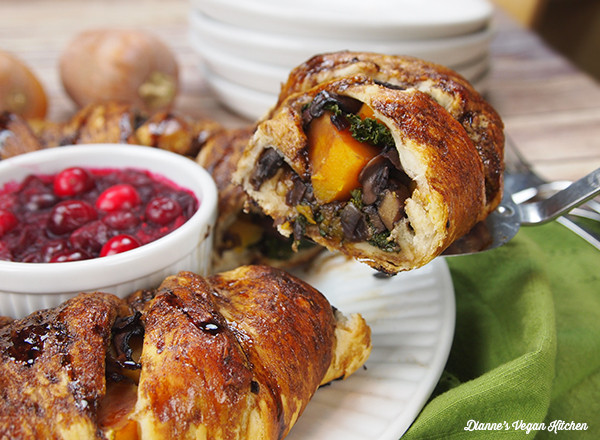 Ingredients:
2 medium-sized shallots, diced, about ½ cup
1 teaspoon neutral-flavored vegetable oil (I use avocado oil)
Sea salt
2 cloves garlic, minced
5 ounces mushrooms, sliced, about 2 cups
¼ cup red wine
Half of medium butternut squash, peeled and cubed, about 3 cups
½ bunch kale, stems removed and leaves chopped, about 3 cups
½ cup balsamic vinegar
2 packages Immaculate Baking Company Crescent Rolls
Instructions:
In a large pan over medium-high heat, sautée the shallots in the oil along with a pinch of salt. Cook for about 5 minutes, until the shallot begins to turn brown and fragrant.
Add the garlic, mushrooms, and another pinch of salt to the pan and cook for 5-10 more minutes, until the mushrooms begin to turn brown and fragrant.
Add the red wine to the pan. Allow the vegetables to continue to cook until the wine evaporates.
While the shallots and mushrooms are cooking, steam the squash using the steam insert in a large pot or an electric steamer. Steam for about 10 minutes, until the pieces are fork tender.
Remove the squash from the steamer and add the kale. Steam the kale for about 3 minutes, until it turns bright green and begins to wilt.
While the vegetables are cooking, bring the balsamic vinegar to a boil in small pot. Reduce heat to a simmer, and continue cooking for about 15 minutes. It should reduce down to about ¼ cup.
Heat the oven to 350° and line a baking sheet with parchment paper.
Unroll both cans of crescent roll dough and separate the dough into 8 rectangles. Arrange the dough rectangles in ring so that the short sides of the dough rectangles form a 5-inch circle in center. The dough pieces should overlap.
Layer the kale, squash, and mushroom mixture into the half of the dough ring that's closest to the center.
Carefully bring the outer edge of each dough rectangle up over filling, tucking it under bottom layer of dough to secure it. Repeat this around ring until you've wrapped all of the filling in the dough. Some of the filling will show. Gently separate the dough perforations on top of the ring until a little filling peeks through.
Brush the dough with the balsamic glaze. If you have any left, you can drizzle it over the ring when you serve it.
Bake for 25-30 minutes, or until the dough is golden brown. Let cool for 10 minutes before slicing.
Slice and serve!
Originally posted 2019-03-12 14:01:53.