2. Creamy Onion Garlic Dip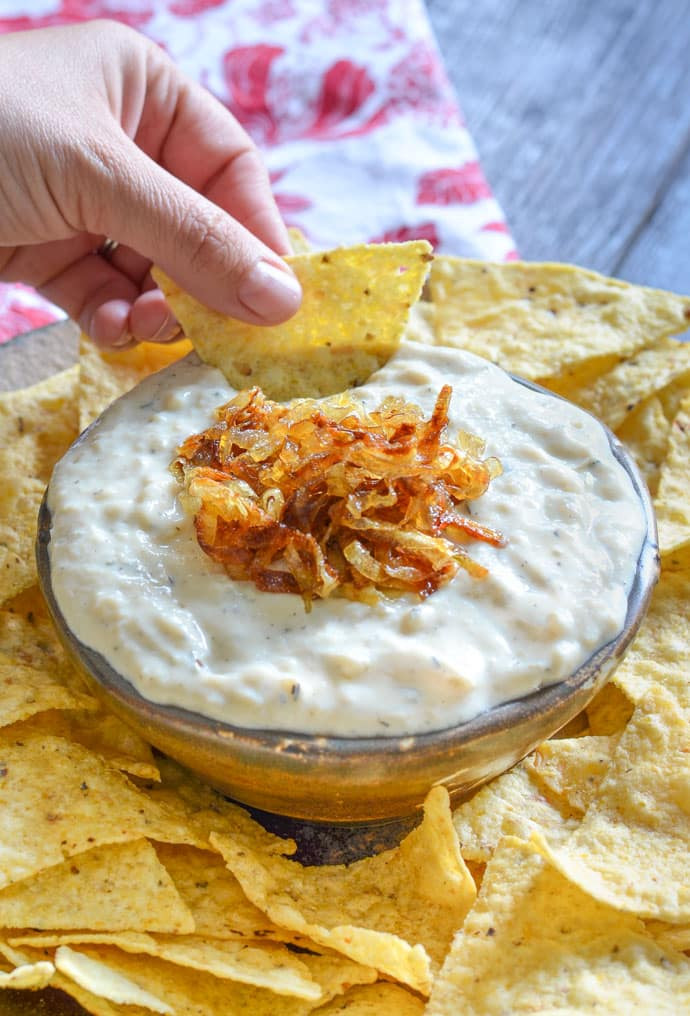 Ingredients:
2

teaspoons

olive oil

, make the dip oil-free by sautéing the onion in a few tablespoons of water instead of oil. it will be more difficult to get them really caramelized though so oil is the best option.

1

whole head

garlic

, not individual cloves, the whole thing

300g | 2

heaping cups

onion

, peeled, cut in half then sliced finely

2

teaspoons

sugar

, optional

349g | 12.3

oz

silken tofu

1

tablespoon

nutritional yeast

2

teaspoons

white miso paste

, optional – can be omitted but if you have some it's worth using it

1

tablespoon

white wine vinegar

, or lemon juice

½

teaspoon

salt

, plus a little more to taste if necessary

1

teaspoon

dried thyme

, you can use fresh instead if you have it and feel free to add more if you want a stronger type flavour

60mls | ¼

cup

plant-based milk

, you might not need it all
Instructions
Preheat oven to 400°F.

Keep the garlic head all in once piece and slice about ¼ inch straight off the top of the whole garlic head exposing the inside of the cloves inside.

Take a square of tin foil and put the garlic head cut side down in the middle of the foil and wrap it tightly.

Bake in the oven for around 40 minutes. After this time check it. It should be really soft if you give it a squeeze. Give it another 5 minutes or so if it's not. Once completely soft remove from the oven and allow to cool in the foil.

While the garlic is roasting, heat a sauté pan over a medium low heat with the olive oil (or a few tablespoons of water). Once hot add the sliced onion. Cook slowly for around 30 minutes, stirring frequently. If you use water you will need to add a few drops more here and there to stop the onions sticking.

Once the onion is really soft and starting to go golden, add the sugar (optional but recommended for a more caramelized result) and stir well then continue to cook for another 5 minutes or so until a deep golden brown then remove from the heat and set aside.

Add the tofu, nutritional yeast, white miso, vinegar and salt to a blender.

Take the roasted garlic head and gently squeeze the garlic out of the papery skins and into the blender along with half of the onion and a few drops of the milk.

Blend until completely smooth. Check the consistency and add a little more milk if you prefer a slightly thinner dip. I used a full ¼ cup but you might prefer less.

Add the thyme and the rest of the onion and stir to distribute. If you prefer it completely smooth you can blend all the onion up into it. I like having some of the golden strands through mine for texture.

Spoon into a serving dish.

Optional :  Garnish with more caramelized onion or some fresh thyme leaves.
Notes
Will keep for up to 1 week if refrigerated in a sealed container.
Originally posted 2019-03-12 14:01:53.