19. Tofurky Roast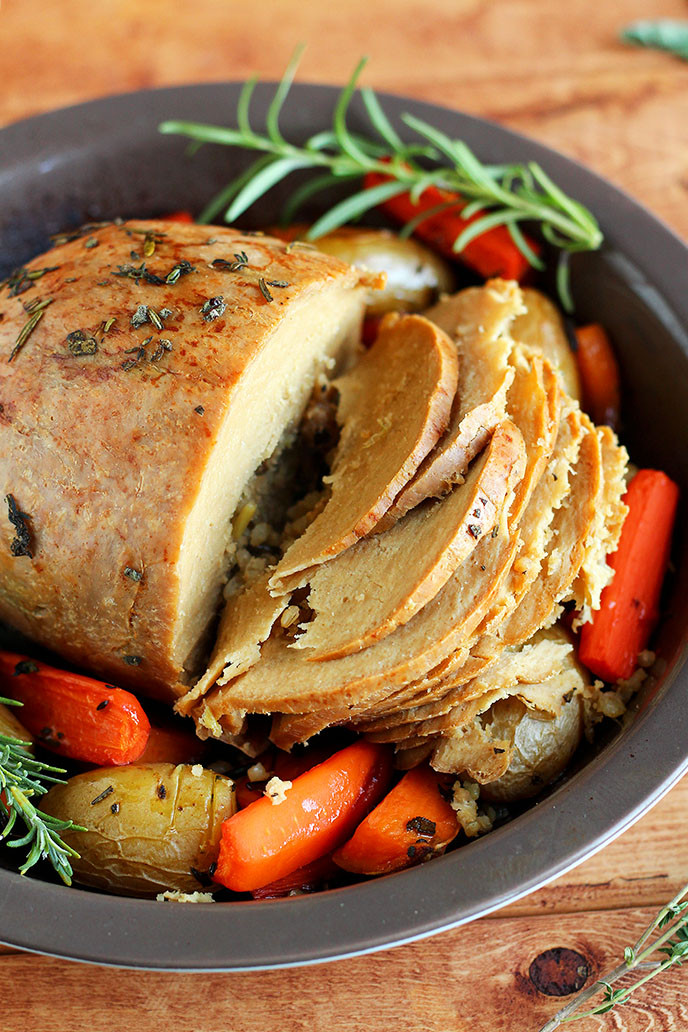 Ingredients:
Tofurky Roast, thawed in fridge for at least 24 hours
1 medium-large sweet potato, scrubbed
2 carrots
8-10 fingerling potatoes
2 tbsp soy sauce
2 tbsp olive oil
1/2 tsp thyme
1/2 tsp oregano
1/2 tsp rosemary
pie plate or roast pan
tin foil
Instructions:
Preheat your oven to 350 F.
Run your Tofurky Roast under hot water to loosen to plastic casing. Use a knife to carefully remove the plastic.
Peel and chop your carrots and sweet potatoes into large uniform pieces. Keep the pieces nice and large, they're going to cook for a while.
In a small bowl, mix together soy sauce, olive oil, thyme, oregano, and rosemary.
In a pie plate or roast pan, place your Tofurky Roast in the center and arrange your carrots, sweet potatoes, and fingerlings around the outside.
Pour about half of the the soy sauce, oil, and herb mixture mixture over the roast, and vegetables.
Use tin foil to tightly cover the entire pie plate.
Place on the middle rack of your preheated oven. Cook for 1 hour. Remove tin foil, baste with remaining soy sauce, oil, and herb mixture and return to oven to bake uncovered for an additional 10-15 minutes.
For optimal flavour and texture, use a bread knife (or other sharp, serrated knife) and slice it (shaving it would be a better word) as thin as you can. Serve with Mushroom Gravy and Cranberry Sauce.
Originally posted 2019-03-12 14:01:53.