17. Cinnamon White Chocolate Cheesecake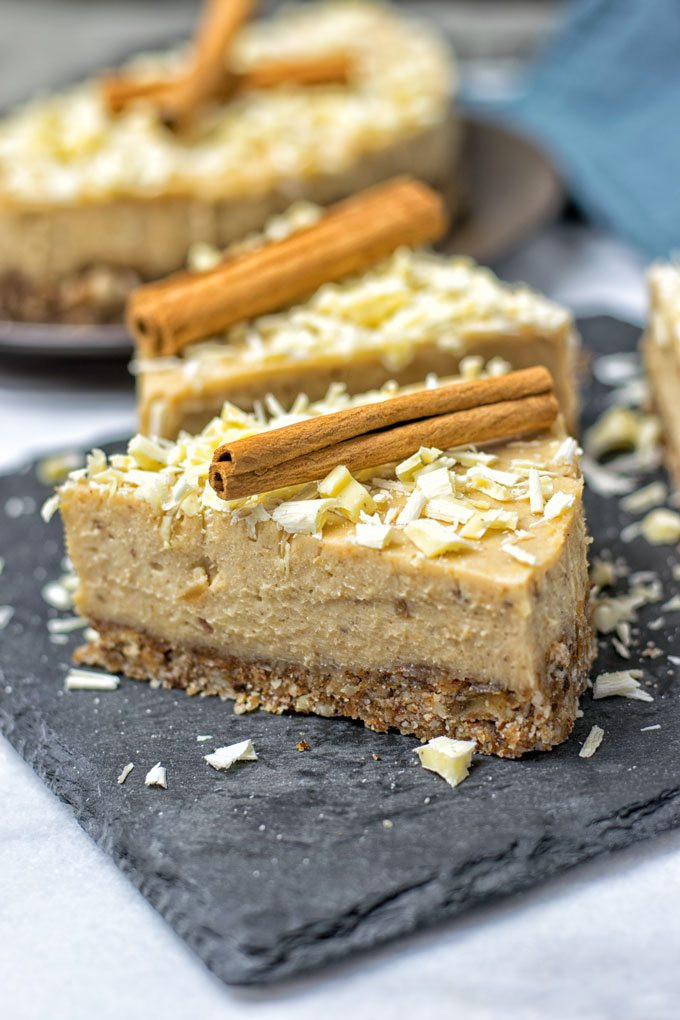 Ingredients:
For the dough:
1 1/2 cups almonds
1 tsp cinnamon
1 cup Medjool dates
For the filling:
3/4 cup coconut milk
2 heaping cups cashews
2 tsp cinnamon
8 Medjool dates
3 oz vegan white chocolate + more for sprinkling the cake
1 Tbs organic vanilla powder (optional)
Instructions:
Use a blender or food processor and combine almonds, Medjool dates, and cinnamon. Process until you have a crumble texture. Do not over-process or it will end up too smooth. Just a crumbly texture is ideal. Press this dough mixture into a 7 inch springform that you have prepared with parchment paper or greased a little with just a bit of coconut oil.
Combine cashews, cinnamon, coconut milk, Medjool dates, and optional organic vanilla powder again in the blender or food processor. Process this time until really smooth. While the blender is running, melt the vegan white chocolate in a microwave or just on the stove with water. fold the melted chocolate into the filling. Give the filling onto the dough and finishing with more chocolate sprinkles. Chill and enjoy.
Originally posted 2019-03-12 14:01:53.