25. Vegan Walnut, Sage + Cranberry Stuffed Holiday Mushrooms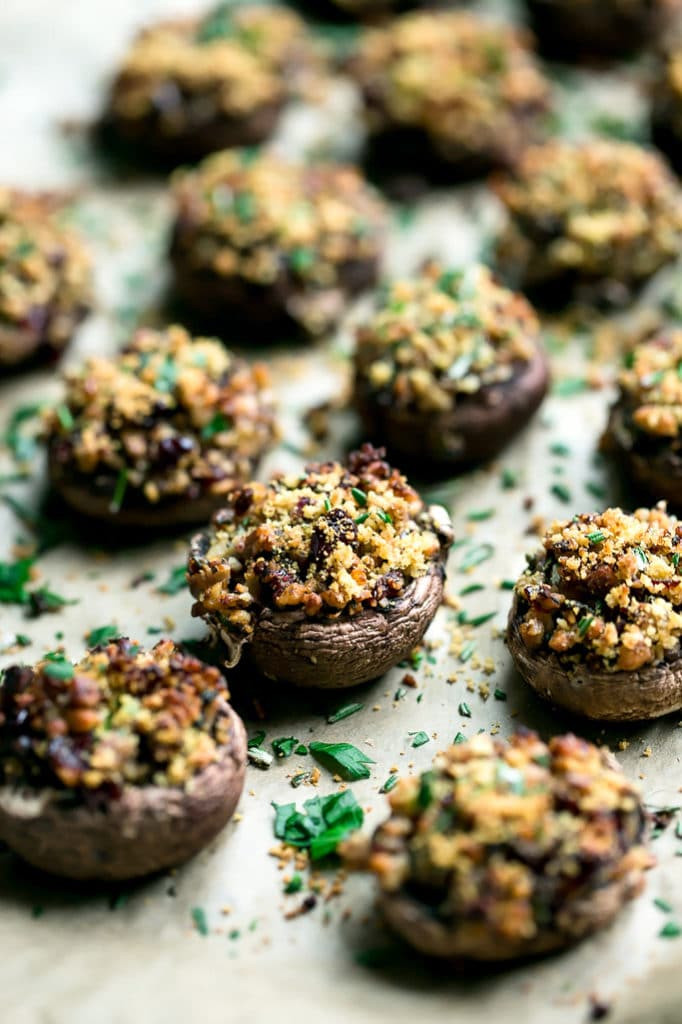 Ingredients:
1

pound

large cremini mushrooms or small portobello mushrooms

(stemmed, 16 ounces, about 12 mushrooms with a 2-inch diameter)

1 1/4

cups

raw walnut pieces, divided

2

cloves

garlic, smashed and peeled

1

tablespoon

extra-virgin olive oil

1/2

cup

finely diced shallots

(about 2 medium shallots)

2

tablespoons

finely chopped sage leaves

2

teaspoons

minced fresh rosemary

1/4

teaspoon

dried thyme

1/4

teaspoon

plus 1/8 sea salt, divided, plus more to taste

Freshly ground black pepper, to taste

1/3

cup

dried cranberries, finely chopped

1

teaspoon

sherry vinegar

1

tablespoon

nutritional yeast flakes (for the walnut "parmesan")

1/4

cup

flat-leaf parsley, stemmed and finely chopped (optional)
Instructions:
Preheat oven to 400F. Line a large baking sheet with parchment paper.
Use a small spoon to gently scrape away the gills from each mushroom. You'll be surprised how much you'll scrape out of those little mushrooms, and more space equals more filling!
Add 1 cup of the walnuts and the garlic to a small food processor and pulse 15 to 20 times, or until very finely chopped or coarsely minced.
Heat a large sauté pan over medium-low heat and add the olive oil, walnut mixture, shallots, sage, rosemary, thyme, 1/4 teaspoon of the sea salt, and black pepper, and continue to cook for 5 minutes, or until the shallots soften and the walnuts are lightly toasted, stirring frequently. Remove from the heat and stir in the cranberries and sherry vinegar. Taste and season with more sea salt and black pepper, if desired (I recommend adding another 1/8 to 1/4 teaspoon sea salt and another pinch of black pepper).
Prepare the walnut "parmesan" topping (if using). Add the remaining 1/4 cup walnuts and 1/8 teaspoon sea salt to a small food processor along with the nutritional yeast flakes. Process for 20 seconds, or until the mixture resembles finely grated parmesan cheese. Set aside.
One at a time, pick up each mushroom and use a small spoon to fill it. Use the back of the spoon to gently compact the mixture into the mushroom cap and transfer to the lined baking tray. Repeat, stuffing all of the mushrooms. (I find it easiest to hold the mushrooms over the pan with the walnut filling while stuffing. That way, excess filling falls back into the pan instead of on the lined tray.) Sprinkle the top of each mushroom with a generous pinch of the walnut "parmesan" (if using). (You'll have quite a bit of leftover parmesan that you can use to garnish before serving.)
Bake for 16 to 20 minutes, or until the mushrooms are tender and the top of the filling is golden brown.
If desired, garnish the mushrooms with another pinch of parmesan and sprinkle with the parsley. Serve immediately.
Originally posted 2019-03-12 14:01:53.