20. Perfect Plum Crisp with Almond-Oat Toppping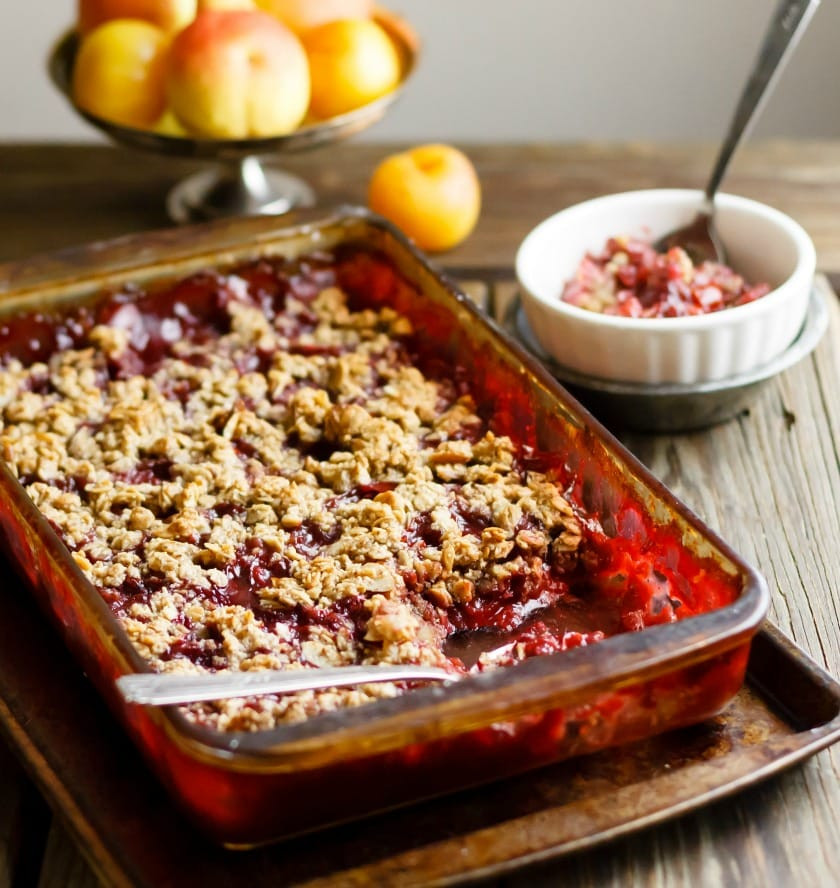 Ingredients:
Filling:
2 lb. plums, pitted and sliced (leave the peel on)
1/3 c maple syrup
3 tablespoons cornstarch
1 tsp ground cinnamon
pinch ground cloves
Topping:
1 cup old-fashioned oats
1/2 c almond meal (can be made from a heaping 1/2 c sliced almonds ground to meal in your food processor)
1/3 c sliced almonds
1/3 c maple syrup or agave
1/2 tsp ground ginger
1 1/2 tsp ground cinnamon
1/4 tsp salt
4 Tbs melted coconut oil
2 Tbs unsweetened almond milk (or your favorite milk)
Instructions:
Heat the oven to 350. Combine the filling ingredients in a 9″ x 9″ or 10″ x 7″ baking pan and stir together well.
Combine all the topping ingredients except the oil and milk in a medium bowl and stir to combine. Stir in the oil and milk until the mixture is thoroughly damp.
Dollop the topping semi-evenly over the filling and bake for about 55 minutes. Let rest for 5-10 minutes before serving. Serve alone or with your topping of choice.
Originally posted 2019-03-12 14:01:53.