14. Sweet Potato Casserole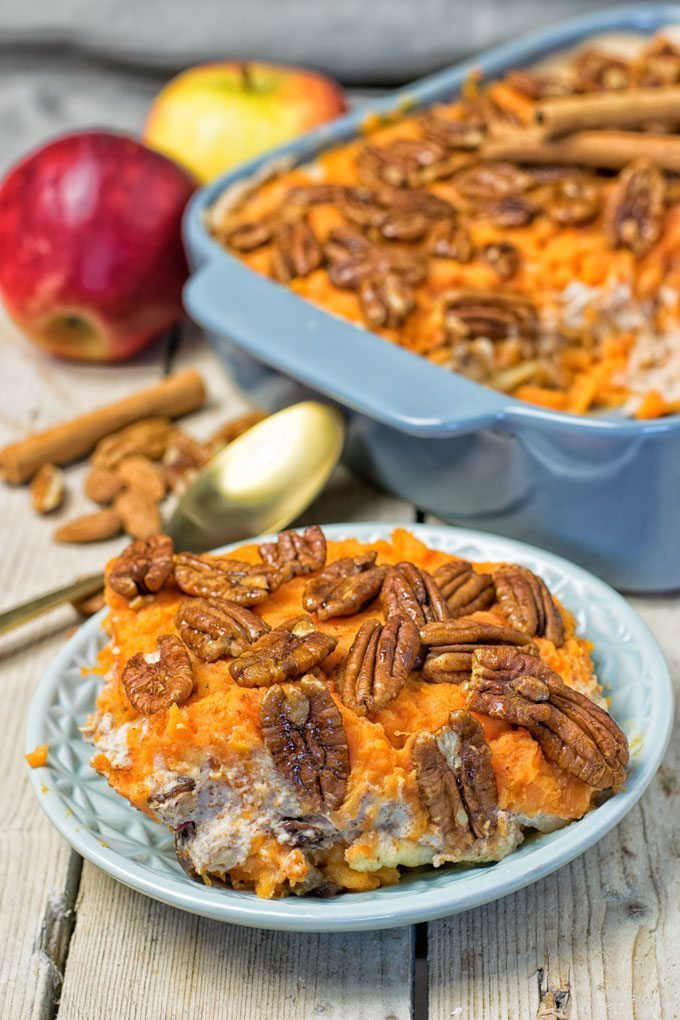 Ingredients:
1 batch almond sauce
double batch Mashed Sweet Potatoes
1 apple sliced, mixed with 1 Tbs Maple + 1 tsp cinnamon
1/4 cup raisins (optional)
For the candied pecans:
1 cup pecans
2 tbs maple syrup
2 tsp cinnamon
For the almond sauce:
1 1/4 cups (165 g) almonds, soaked overnight
1 lemon
2 Tbs white vinegar
1 1/4 cups (300 ml) water
salt, pepper to taste
For the Mashed Sweet Potatoes:
2 sweet potatoes
4 Tbs coconut or almond milk
salt, pepper, nutmeg (optional)
Instructions:
For the almond sauce :
Soak the almonds in water overnight.
Drain the almonds and transfer them to a blender. Add the remaining ingredients and process until smooth.
For the Mashed Sweet Potatoes:
Peel the sweet potatoes and cut them into chunks. Transfer to a sauce, add water and bring to a boil. Cook for 15-10 minutes until the sweet potatoes are soft.
Drain the sweet potatoes and transfer to a bowl. Mash them with a potato masher. Add coconut or almond milk and season with salt, pepper, and nutmeg (optional).
For the Sweet Potato Casserole:
Start making the mashed sweet potatoes. While the sweet potatoes are being prepared, hop over to a blender or food processor and make the homemade almond sauce from my Pumpkin Cannelloni.
To make the candied pecans just combine pecans, maple syrup, and cinnamon, and whisk together.
Finally assembling is an easy game as always: start with 1/2 of the sweet potato mixture, spread almond sauce, apple slices and optional raisins. Add the rest of the sweet potato mixture and finish with candied pecans. Bake for 15 minutes at 400°F, done.
Originally posted 2019-03-12 14:01:53.