21. Skillet Veggie and Cheese Stuffed Shells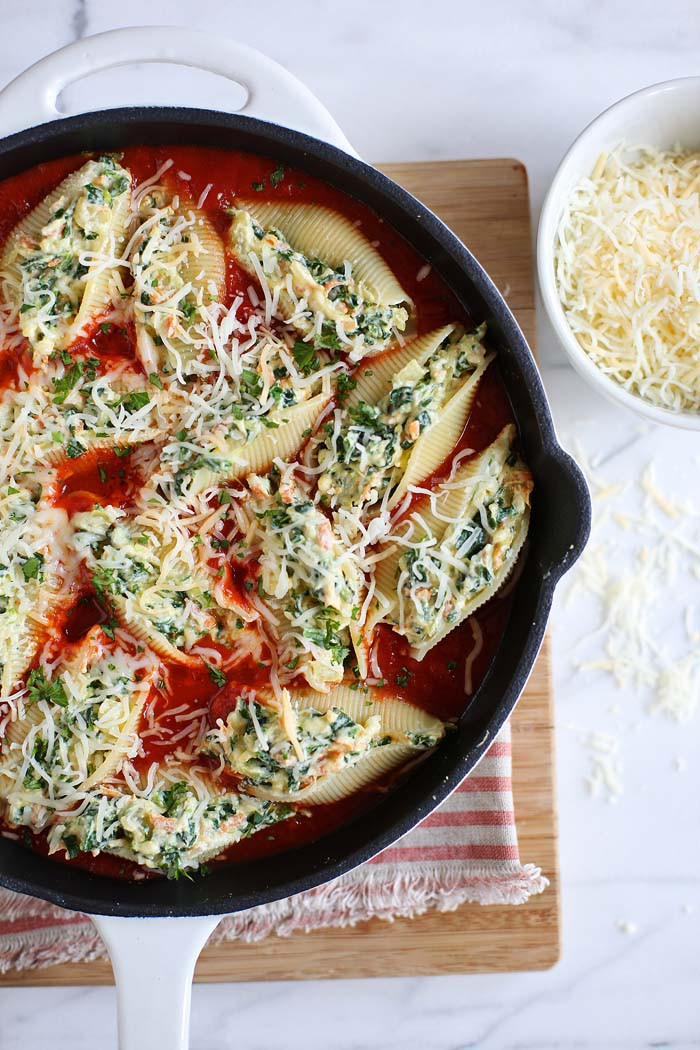 Ingredients:
27 (9 oz) jumbo pasta shells
1 Tbsp olive oil
1 onion, chopped
1 clove garlic, minced
3 large carrots, shredded
1 medium zucchini, shredded
1 (10 oz) package frozen chopped spinach, thawed and well-drained
1 cup part skim ricotta cheese
1 cup shredded mozzarella cheese
½ cup shredded Parmesan cheese
Salt and pepper, to taste
3 cups pasta sauce (24 oz)
Instructions:
Cook pasta shells according to the package instructions, drain and rinse well with cold water. Set aside.
While pasta is boiling, drizzle olive oil in a large skillet over medium-high heat and saute onion, garlic, carrots and zucchini until tender, about 5 minutes. Stir in spinach and saute an additional minute until all combined and transfer spinach mixture into a large bowl.
Stir in ricotta cheese, about ¾ cup of mozzarella cheese and ¼ cup of Parmesan (the remaining cheese will be used at the end) then add salt and mix until completely combined.
Pour pasta sauce into the skillet then fill each shell with 2 heaping tablespoons of veggie mixture.
Arrange stuffed shells in the skillet, cover and cook on medium heat for 10 to 15 minutes until heated through. Top with remaining cheese, serve and enjoy!
NUTRITIONAL INFORMATION
Serving Size: 3 stuffed shells • Calories: 273 • Fat: 9.9 g • Saturated Fat: 3.9 g • Carbs: 34.1 g • Fiber: 5 g • Protein: 13.8 g • Sugars: 7.8 g • WW Freestyle Points: 8
Originally posted 2018-12-19 09:10:22.